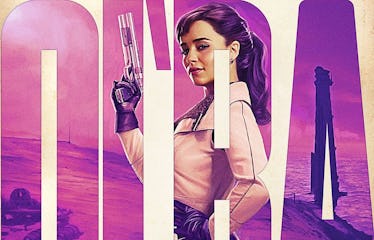 5 Details 'Star Wars' Fans Should Know About Emilia Clarke's 'Solo' Character
Lucasfilm
Solo: A Star Wars Story is arriving in theaters in less than a week. This will be the second Star Wars movie starring all new characters in a six-month time span, and the thrill of learning about new people who inhabit the galaxy far, far away is always a big one for fans. But where some of these characters are familiar (Han, Chewie, Lando) some are complete unknowns. One of the biggest mysteries is Emilia Clarke's character, named Qi'ra. Who is Qi'ra in Solo: A Star Wars Story? And how is she related to Han Solo?
Qi'ra has stood out for the odd spelling of her name, but there's a reason for it. It's actually based on George Lucas' own works. Drafts of both Episode VII and Solo were originally first written before the Lucasfilm buyout by Disney, and in Lucas' version of what became The Force Awakens, the female protagonist was named Kira. In the Disney penned version, they eventually renamed her Rey.
Using a variation on the original name Lucas wanted is a small homage to the man who created Star Wars, that his Kira (or Qi'ra) character eventually made it on screen.
So what exactly do fans know about her character heading into the film? Here's a run-down of her biography so far.