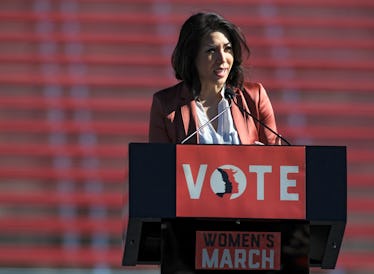 This Native American Woman Just Won Her Primary Election & Is On Her Way To Make History
Sam Morris/Getty Images News/Getty Images
The proverbial Democratic "blue wave" continued in Idaho this week, with a Native American gubernatorial candidate winning her primary election on Tuesday, May 15. According to published reports, if she wins, she'll be the first Native American and female governor of the state in (her)story. So who is Paulette Jordan? The Idaho Democrat is challenging the status quo, and I'm here for it.
"We are all one. Like all of you, I am a Westerner. I was raised by Idaho," she told supporters at a bar on Tuesday, per The Washington Post. "I come here on the vision and the prayer of our ancestors. They suffered and sacrificed for far too long for us to not see this win tonight. We have a better Idaho and we've seen that tonight."
These primary elections you're hearing so much about are a big deal. They're held around the country leading up to Election Day, and will select who gets to run for office for a given political party.
When Idaho Gov. C.L. "Butch" Otter announced last year that he wouldn't seek a fourth term, the governorship went up for grabs, but Jordan didn't initially receive unanimous support from Democrats in her bid for the seat. Jordan is a state lawmaker in the Idaho House of Representatives, but CNN reported that many of her colleagues threw their support behind her primary opponent, A.J. Balukoff, a local school board member who previously ran for governor. That's what makes her primary win extra stunning — Jordan had 60 percent of the vote as of 11 p.m. on election night, per The Idaho Statesman, ahead of Balukoff's 38 percent. (The third candidate in the race, Peter Dill, garnered about one percent of voters' support.) Jordan, 38, will face off against Lt. Gov. Brad Little, 64, a fixture of Idahoan politics, for the seat in November, per The Washington Post.
Jordan is a member of the Coeur d'Alene tribe, a non-nomadic group of indigenous people who lived on some 5 million acres across what is now northern Idaho, eastern Washington, and western Montana, according to the tribe's official website. She says that her heritage informs her level-headed, resolute approach to politics. She told Boise Weekly in February,
I've actually had some very powerful men in my life who said, 'You're never to think of yourself as either a man or a woman. You're always to think of yourself as a leader. That's just the way it is.' I was raised to be in the front, having the courage from the onset and always willing to take the arrows.
Jordan was offered a basketball scholarship at Washington State University, but chose instead to attend the University of Washington on an academic scholarship. She later worked as co-chair of the Affiliated Tribes of Northwest Indians and as a finance chair, energy initiative chair and senior executive board representative of the National Indian Gaming Association, according to The Atlantic.
Jordan was first elected in 2014 to represent District 5 in the Idaho Legislature, and she stepped down in February. She's making waves in a state that is heavily conservative — Vox reported that the last Democratic presidential candidate to win Idaho was Lyndon B. Johnson in 1964. But hey, at least Cher knows who Jordan is — they met at a Las Vegas rally last year and the pop star tweeted about it.
So what does all this mean in the broad scheme of future elections? It's hard to say for sure, but it appears that Democratic women are performing considerably well in primaries across the country — suggesting that when women choose to run, they succeed. Tuesday's Idaho primary reportedly saw record-setting voter turnout among Democrats. The Washington Post reported that precincts in Boise ran out of ballots, and that Democratic voter turnout more than doubled since the mostly-red state's last gubernatorial primary. She faces an uphill battle in the Republican stronghold, but she seems to be up for the challenge.
"The key to this election will be those Idaho voters who have been forgotten," Jordan told Boise Weekly in February. "They'll be the ones who will decide who our next governor is."