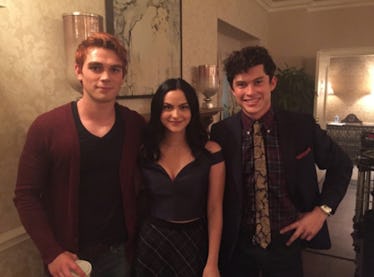 'Riverdale' Has A New Character Rolling Into Town, Here's What We Know About Him
Twitter/@WriterRAS
Things aren't exactly humdrum in the town Riverdale, but that doesn't mean it isn't time for a shake-up. While the world's most extreme zip code is a hotbed for criminal activity, scandal, and murder mysteries (that's mysteries, plural), there's always room for a new face with a new agenda. So, who is Nick St. Clair on Riverdale? There's fresh meat on the horizon for our favorite high school drama/thriller and we can only assume he's going to mean trouble. Our paranoia is entirely rational. Have you seen this show? Practically everyone is suspect.
Veronica Lodge has a lot on her plate right now. Her former convict dad, Hiram, is back in her life and already acting shady AF. Her boyfriend, Archie, is running around at night avenging his father's shooting and leading a serial killer watchdog group into highly dangerous situations. Her BFF, Betty, is getting phone calls from said hooded mystery murderer. Is it really the best time for an old flame to come a-knockin' and make matters worse? Seriously? According to showrunner Roberto Aguirre-Sacasa's tweet on Sunday, we should expect "trouble for #Varchie" on this Wednesday's episode. You guessed it — Nick St. Clair is probably not going to be a fan favorite.
So, what do we know about this Nick St. Clair fellow? For one, he's Veronica's ex from the mean streets of upper-crust Manhattan. Aguirre-Sacasa elaborated to EW,
Nick is an old classmate of Veronica's from New York, and despite his parent-pleasing veneer, he is a wolf in sheep's clothing: a hard-partying Lothario with dark desires and an unchecked sense of privilege. His arrival in Riverdale will threaten Archie's relationship with Veronica, and may even put some of our characters at risk.
To quote the 21st century poet Taylor Swift, he sounds like "a nightmare dressed like a daydream." And, apparently, we should brace ourselves for his negative affect on dear Ronnie. "He brings out Veronica's dark side, which I don't think we really got to see in Season 1," Camila Mendes remarked at Comic-Con back in July. #DarkVeronica is coming, guys.
"Episode 205, let me just say, is a really big 'girls sticking together' [episode]. This Nick St. Clair guy, the ex-boyfriend that comes into town, he does some really bad things. And it involves Veronica and Cheryl. And because of that, it brings all of the girls together to kind of fight it. It's kind of in the same light as Episode 3 in Season 1," Mendes elaborated.
We all know what these powerful and merciless vixens are capable of when they've been crossed — especially when they team up for revenge — so, maybe Nick will get his sooner than we think. We can only imagine what Cheryl could possibly bring to the table... But will there be more wigs?!
Lili Reinhart also took to social media to declare that Season 2's fifth episode, "When a Stranger Calls," is Betty's most intense one to date. Well, she did just get a chilling phone call from a serial killer.
All that plus bad boy Nick St. Clair's introduction sounds like a wild ride.
You may recognize the actor behind new kid Nick, Graham Phillips, from his role as Zach Florrick on The Good Wife. Even though he'll be throwing a wrench in the relationship that is Veronica and Archie, it looks like he's getting along with everyone just fine IRL. Sweet tie, St. Clair.
While Riverdale doesn't always stay entirely true to its comic book source material (we're pretty sure Jingle-Jangle wasn't an illegal substance in those), it does try to reference minor characters featured in the beloved digests of the past. Nick St. Clair does in fact have a comic book history — he was an up-to-no-good biker with a rebellious streak who crushes on Veronica. Looks like his 2017 version will potentially do more than sneak into the movies and start school yard fights. We're looking forward to meeting you, Nick. But please don't mess with #Varchie too much.