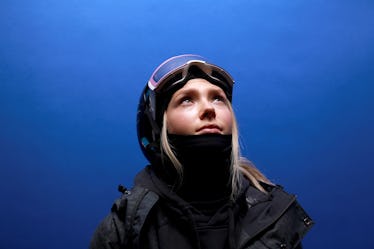 This 19-Year-Old Skier Is Returning To The Olympics With Something To Prove — EXCLUSIVE
Ron Jenkins/Getty Images Sport/Getty Images
Before the Sochi Winter Olympics in 2014, freestyle skier Maggie Voisin became the youngest athlete named to Team USA since 1972. She was 15 years old. Bursting onto the scene, Voisin was a fresh face to the Olympics. But right before the games began, Voisin broke her ankle and was unable to compete at all. Four years later, she's made it back onto Team USA, and she's more than ready to show the Olympic audience what she's got.
"We all have our tough days, but that's what makes us stronger," Voisin tells me in an interview for Elite Daily at a Team Visa event. "My last Olympic experience, I fractured my fibula above my ankle. When I get to look back on that injury and how far I've come and what happened, it really lights a fire under me to be that much more motivated and confident going into PyeongChang."
I just have to remember what skiing means to me. I'm not doing it for anyone else, I'm doing it for myself, and I'm doing it because I love it.
Four years ago, Voisin was a rookie. Now, she's the one to beat when it comes to slopestyle skiing. Just two weeks ago, on Jan. 27, Voisin became the first American woman to win in slopestyle skiing at the X Games in Colorado. She is also the only American woman to medal at the X Games in big air skiing.
Now, I understand there are lots of different types of skiing to keep track of. So what exactly does Voisin do? Well, it goes a little like this:
"Free skiing is a young sport, and it's kind of crazy — I'm not the youngest anymore. There's a lot of young athletes," Voisin says.
Free skiing (which includes slopestyle and is basically snowboarding on skis) is a young sport both in the sense that the athletes who compete in it are young and that it's new to the Olympic scene. In fact, slopestyle was only added to the Olympics in 2014, so this is the second time the Olympic audience gets to see the sport.
Because it's newer to the biggest international competition stage, Voisin explains, the athletes didn't used to have national teams to clique up with. That, she says, makes it a friendly (competitive) environment. "Everyone is just super close from everywhere, and all of us girls are just super close. When we get to go compete, obviously we're competitive and want ourselves to do well, but we're all rooting each other on as well," she says.
Voisin says that since freestyle skiing is an individual sport, you really are putting the pressure on yourself. But she has a way to keep herself in check when she starts feeling that pressure. "I just have to remember what skiing means to me. I'm not doing it for anyone else, I'm doing it for myself, and I'm doing it because I love it. That's really what helps me reach my goals. If I'm going out every day doing what I love and being passionate about it, then I can just focus on what matters to me and how much I love it," she says.
And her trip to Sochi did help to lessen the pressure this time around, Voisin tells me.
"The [Sochi] Olympic year was my rookie year on the season. No one really expected it, and I didn't expect myself necessarily to make the team," Voisin says. "Going into this Olympics, I've done qualifications before, I've been to an Olympics, so I know what to expect. There's kind of that pressure behind me, and I just feel like in four years, I feel that much more confident in my skiing and in myself, and honestly, I'm just more excited than ever."
To learn more, visit teamusa.org. The Winter Olympics will air live, starting Feb. 8.