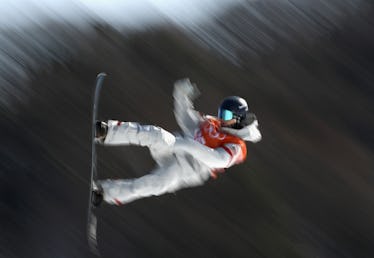 This Sport Is Coming Back To The Winter Olympics & You'll Love It
Clive Mason/Getty Images Sport/Getty Images
The Winter Olympics are a time when athletes from all over the world gather in one place to compete in icy, snowy, and usually pretty dangerous-looking, adrenaline-fueled sports. Some Olympic games are old, some games are new, and some games are returning. Slopestyle is one of those games that's a lot of fun to watch and is also fairly new, so when was slopestyle added to the Winter Olympics?
Slopestyle did not become an Olympic events until the Winter Olympics in Sochi 2014. That makes PyeongChang 2018 only the second games to include the sport.
So what is slopestyle? Well, during the freestyle skiing or snowboarding events, riders are tasked with creating their own path while tackling various obstacles, quarterpipes, jumps, and rails. The tricks fall into four main categories: spins, flips, grinds, and grabs, according to Topend. Each competition is done solo. The rider must complete the course on his or her own, and the runs are judged on heights reached in jump, degree of difficulty of each tri performed, execution of each trick, and overall style. This might not help you, but whenever I think of slopestyle I think of Tony Hawk's Pro Skater game... but with snow.
Slopestyle is done on a "obstacle-course" type of format, and therefore each course is unique. On Feb. 7, PyeongChang opened their slopestyle course so that the competitors can become familiar with it and practice. According to NBC, this course is one of the more creative ones built. There are said to be multiple rail options as well as angled jumps and quarterpipe takeoffs. NBC reports that the PyeongChang slopestyle course offers a lot of creative options for the riders.
Two-time U.S. Olympian Ryan Stassel shared some photos of the course on his Instagram.
If you are not all that familiar with the slopestyle competitors and who to watch out for, TeamUSA.org has its eye on Red Gerard, in snowboard slopestyle, who could be the youngest American snowboarder to take home a medal at the Winter Olympic Games. That's a good place to start if you want to get in the fold.
Now that you know all this awesome information about slopestyle, you're probably going to want to tune in and catch it at this year's games. NBC will be airing all of the games as well as streaming on their site. Men's slopestyle in snowboarding will air Saturday, Feb. 10 at 8:00 p.m. ET, and ladies slopestyle at 11:30 p.m. ET as well as Sunday, Feb. 9 at 7 p.m. ET. As far as skiing slopestyle, ladies will take place on Saturday, Feb. 17 at 12:35 a.m. ET and men's at 8 p.m. ET and at 11:30 p.m. ET.
The slopestyle events are sure to be all the more exciting this year as they continue into their tenure at the Olympic games. As you get hyped up about it, don't forget that the opening ceremony, which solidifies the real start to the excitement of the Olympic games, is Friday, Feb. 9 at 6 a.m. ET, and that will be available on NBCOlympics.com. But if you are not ready to become a morning person just to catch the opening ceremony, have no fear, NBC is going to air a fully-produced showing at 8 p.m. ET.
If you don't know, now you know. Slopestyle if a pretty cool and creative sport with a young flare to it, and though this is only its second go at the Winter Games, it is sure to leave its mark on PyeongChang and the Winter Olympics as a whole. So make sure you tune in and check out the awesome tricks. Just, you know, don't try them at home.