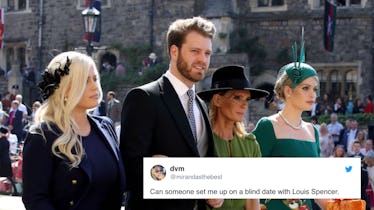 The Internet Just Discovered Prince Harry's Super Hot Cousin & Apparently He's Single
WPA Pool/Getty Images Entertainment/Getty Images
Just when you think your last royal bachelor rode off into the sunset with a blushing bride, in walks a newer, younger version. Prince Harry, Duke of Sussex, and Prince William, Duke of Cambridge's younger cousin — Louis Spencer, Viscount Althorp — is turning heads faster than Meghan Markle, Duchess of Sussex, in a royal wedding gown... and it's totally obvious why. He's one tall glass of British tea, or something. So, who is Louis Spencer, exactly? Just a smokin' hot lad who is next in line for the earldom. Sure, I don't know what that means, but I know I'm into it.
Spencer attended the royal wedding arm-in-arm with his mother, Victoria Aitken. His father, Charles Spencer, is the little brother to Prince Harry's late mother, Diana, Princess of Wales. According to People Magazine, Spencer's good looks are inherited. His mother used to model before marrying his father in 1989, and his sister Kitty currently models for Dolce & Gabbana. Thanks to their high cheekbones, long legs, and stupid gorgeous grins, it makes sense some cameras pressed "pause" on Meghan and Harry long enough to snap some pictures of this group of gorgeous gams.
Would you take a look at this man, please?
Yup. Hello. You've got my full attention... and Twitter's.
Considering Prince Harry and Meghan Markle met on a "blind date," many Twitter users called on their friends asking for their help to set them up with Louis.
Apparently, there's one famous American who was hip to the Louis party way before the rest of us. In 2015, Spencer met Nicki Minaj (using my context clues, it seems like it was at one of her concerts) and she posted an epic photo with the super tall gentleman. With a little bit of foreshadowing, she captioned the picture: "Check out our wedding photo," adding, "no honestly, it was such an honor to have you guys."
Is it just me or is he giving off some major Twilight vibes? In this picture, it looks like Louis stepped right out of a vampire huddle and into Nicki's Instagram.
I did some digging, and it appears the heartthrob isn't on Instagram himself. Or, if he is, he's hidden with a pretty good alias. However, his sister Kitty has a super chill 275,000 followers and matching face symmetry to Louis.
Feast your eyes on those genes.
As far as lineage goes, Louis is heir to the earldom of Spencer, which means any lucky lady who eventually says "F-yeah!" to this guys' proposal will become a countess. He isn't technically royalty, but rather, is considered an aristocrat. According to Hello, Louis was born at the famous royal hospital, St. Mary's, just like his cousins. However, he eventually spent much of his youth with his three sisters in South Africa.
Louis and his family made the final cut in the 2,640 people permitted on the Windsor Castle grounds for the royal wedding, though he looked more like a celebrity than a family member. He fit in with George Clooney, David Beckham, and Oprah as if he hangs with them in champagne lounges all of the time. (I'm assuming that's what famous celebrity types like to do when they get together.)
Based on People's report, Louis is single and better be ready to mingle. He has about a hundred million new fans ready and waiting to slide into his DM's whenever he gets Instagram.
Can you call dibs on royalty? DIBS!
Check out the entire Gen Why series and other videos on Facebook and the Bustle app across Apple TV, Roku, and Amazon Fire TV.