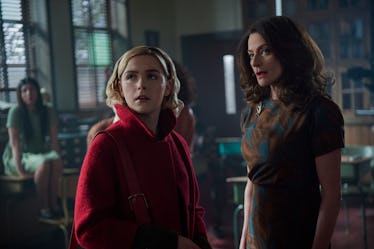 This Character Has A Biblical Significance On 'Chilling Adventures Of Sabrina'
Diyah Pera/Netflix
This post contains spoilers for Chilling Adventures of Sabrina. If your high school is perpetually dimly lit and decorated in orange streamers weeks after Halloween, is it safe to say that one of your teachers is secretly evil? Although she eventually presented herself as an ally to Sabrina on Chilling Adventures of Sabrina, teacher Ms. Wardwell didn't exactly come across as the most trustworthy. By the season finale, the possessed woman finally revealed her magical identity. Who is Lilith on Chilling Adventures of Sabrina? When she wasn't moonlighting as a Greendale historian, Ms. Wardwell's true self has biblical ties.
The first episode of Chilling Adventures of Sabrina introduced Ms. Wardwell as a reserved loner, attending one of the town's monster movie screenings on her own. Sabrina told her friends that she felt sorry for Ms. Wardwell living alone in such an old house, but before viewers could even develop their own sympathy for this version of her teacher, Ms. Wardwell took in a strange girl she spotted on the side of the road. The girl claimed that the woods had attacked her, mentioning Sabrina and her half-mortal, half-witch status. This entity then killed Ms. Wardwell, immediately possessing her form and promising the Dark Lord that she would deliver Sabrina to him.
Such began Ms. Wardwell's transformation into a sexier, slightly sinister presence at Greendale High. She became the faculty adviser of the students' women's group WICCA and offered Sabrina hints in avenging Principal Hawthorne and bullying jocks. Fans knew that Ms. Wardwell's interferences had mixed intentions, so when she confessed to Sabrina that she was a witch, Sabrina immediately trusting her was definitely a worrying moment.
After persuading Sabrina to finally sign her name in the Book of the Beast to save Greendale from the Red Angel of Death, Ms. Wardwell had achieved her mission of nudging Sabrina to embrace her dark powers. In the season's last few moments, the teacher shared her story with a horrified Principal Hawthorne, calling herself the Mother of Demons and Satan's concubine before revealing she was Lilith. In the Bible, Lilith is known as Adam's first wife with a reputation as a kidnapper and seducer. Seen in Jewish tradition as a demon, she was exiled for her refusal to submit to Adam's demands, but in recent years, the figure has even become an icon for the feminist movement.
No matter how Lilith's real-life rep has improved, it's clear that Chilling Adventures of Sabrina has embraced the darker interpretation of the character. As Madam Satan, Lilith has plans to groom Sabrina to take her place before she joins Satan's side on the throne. When her familiar suggested that Satan was actually grooming Sabrina to be his queen, Lilith waved off the theory, hinting that regardless of Satan's plans, she could easily kill Sabrina to earn her prize.
Whether or not Lilith will continue masquerading as Ms. Wardwell or ignite a reign of terror in Greendale is unclear. Chilling Adventures of Sabrina is already renewed for another 10-episode season, and that new batch of episodes ought to address Lilith's status and if Sabrina's dark magic has badly affected her ASAP.
Chilling Adventures in Sabrina is currently streaming on Netflix.