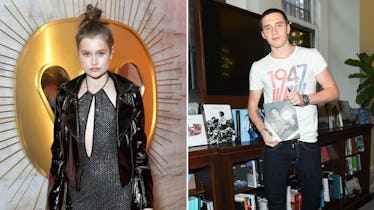 Brooklyn Beckham Was Spotted With A New Lady & She's Not Chloë Grace Moretz
Jared Siskin/Getty Images Entertainment/Getty Images Jamie McCarthy/Getty Images Entertainment/Getty Images
I'm not gonna lie, I was a huge Brooklyn Beckham and Chloë Grace Moretz shipper. I mean, the two lovebirds were just so cute! The couple had a whole on-again/off-again thing going on between 2014 and 2016, before eventually calling it quits. They got back together in late 2017, but it now looks like the son of soccer star David Beckham and the woman formerly known as Posh Spice may have finally moved on, since he was recently spotted kissing a Playboy model! So, just who is Lexi Wood? This woman seems to have stolen Brooklyn Beckham's heart — or at least his lips — for real.
The 20-year-old Canadian brunette was spotted in a lip-lock with Brooklyn in West Hollywood on April 7, despite the fact that there's been no official announcement yet from either Beckham or Moretz regarding a breakup. Moretz even posted a pic of Beckham on her Instagram feed just a month ago in honor of his birthday. "Never Stop Smiling," she wrote. "I Love You, Happy Birthday Brooklyn." Pretty sweet, right? But judging from his majorly public makeout sesh with another woman, I'm guessing Crooklyn is currently dunzo — at least for now.
So, let's take a closer look at Lexi Wood, because I seriously need more info. According to her Instagram page, she's an international model with more than 100,000 followers, and her pics have appeared in both Playboy and Vogue Japan.
Yup, she's gorgeous. She told GQ back in April 2017 that she moved to Paris to pursue her modeling career at age 16, and has been traveling the world ever since. I don't remember what I was doing at 16, but it definitely wasn't traveling the world. More like walking through the corridors of the local mall.
Wood also told the publication that she's always been really into fashion, and that if she wasn't a model, she would probably be a designer. "It's funny, this weekend I was looking through old photos with my family and we found a picture of me when I was about 8 wearing a pair of red pajama pants as a dress," she recalled. "I had my body through the one pant leg and one of my arms through the other pant leg and I literally looked like the emoji of the lady salsa dancing in the red dress!"
I can totally see it, can't you?
Here's what else I learned from reading Lexi's interview in GQ: Her most prized possession is her passport, since it allows her to travel for work and visit her family back home in Canada. She likes to exercise as much as she can during her time off, but she's also down for some hardcore relaxation via junk food, Netflix, and friends. And she even admitted to being bullied when she was growing up.
"My mantra for as long as I can remember is 'Stand up for something you believe in, even if it means standing alone,'" she explained. "I was bullied when I was younger and didn't have very many friends so I did a lot of standing alone."
Sadly, Wood is now being bullied again — only this time, it's coming at the hands of Chloë Moretz fans, who are leaving nasty comments about Brooklyn and Lexi in the comment section of the model's Instagram page.
"Gold digging homewrecker," wrote one.
"Downgrade! Shame on him," added another.
Seriously, guys? This is so lame! I love Moretz too, but Wood also seems like a great girl. No one knows for sure what actually went down between these three, and bullying someone is never OK. Never. Keep standing up for what you believe in, Lexi — and if Beckham is half the guy I think he is, at least this time you won't have to do it alone.