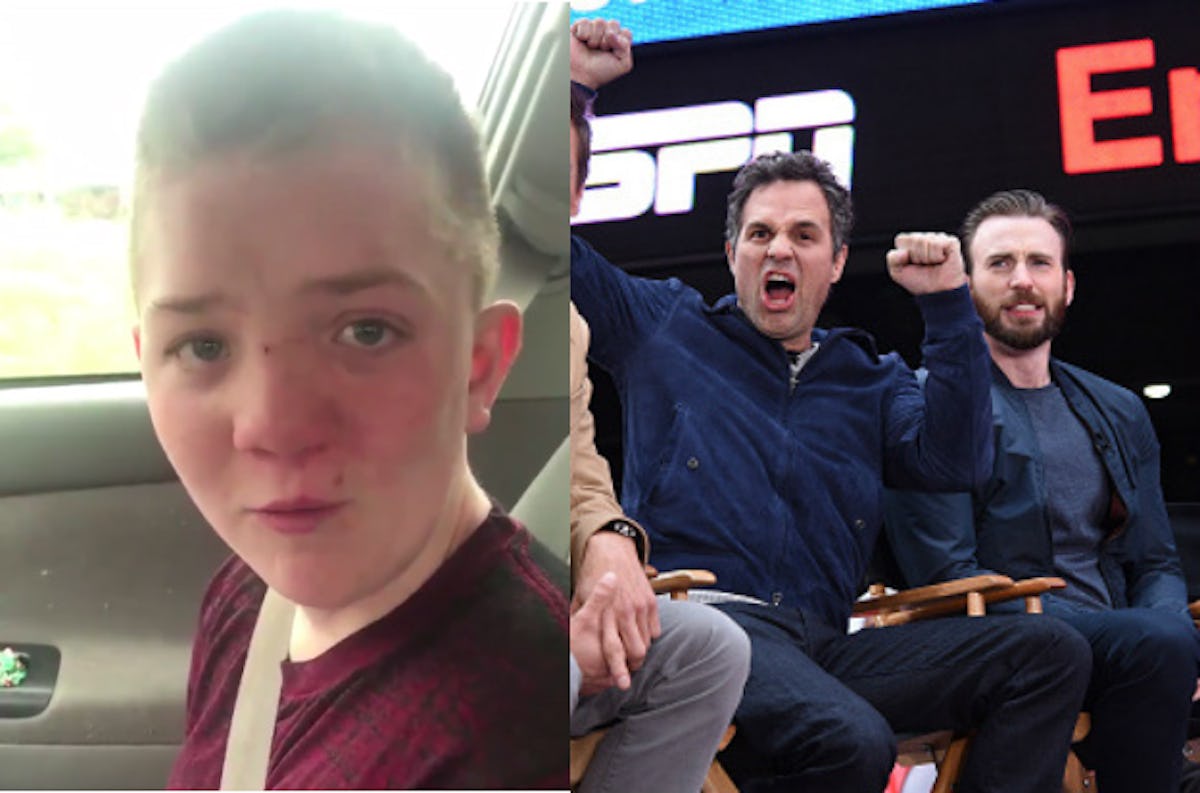 These Celebs Rallying Around A Young Boy's Message About Bullying Is So Heartwarming
Going to school as a kid can be pretty rough sometimes. With all the cliques and the "popular" kids, it can be easy for some children to feel very much left out. When kids begin bullying their classmates, then school turns into the opposite of the safe learning environment it is supposed to be. Recently, celebrities have joined the conversation around bullying, and they've been rallying around one young boy in particular. If you've seen their social media posts, you might be wondering, "Who is Keaton Jones?"
Jones is a young boy living in Tennessee, and his mother Kimberly Jones uploaded a video to Facebook on Friday, Dec. 8 after she had come to the school to pick up Jones at lunchtime because he was afraid to eat due to the bullying. The details of the bullying that Jones shared with his mother were so heartbreaking, and the video quickly went viral. Jones, visibly upset, began the video by asking this question, "Why do they bully?"
Jones goes on to ask, "What's the point of it? Why do you find joy in taking innocent people and finding a way to be mean to them? It's not okay."
Jones shares in the video exactly how the bullies treat him.
After hearing about the instances of name-calling and physical abuse that Jones tells his mom about in the video, your heart might sink a little. He told her, "They make fun of my nose. They call me ugly. They say I have no friends." And if that wasn't bad enough, he can't even enjoy lunch in peace as he relayed to his mom that the bullies would "put milk on me and put ham down my clothes, throw bread on me."
Watching this video made my blood boil. I couldn't believe that children could be so cruel or that a school would allow these kinds of terrorizing actions against one of their own students. Apparently, many celebrities felt the same way, because the messages of support for Jones came flooding in.
Captain America himself invited Jones to accompany him to the Avengers: Infinity War (the newest Avengers movie) premiere in Los Angeles next year.
Chris Evans also showed Jones support by promising him that "it gets better."
Jones can add Hulk to his fan club, too.
Mark Ruffalo also extended the Avengers premiere invite, and told Jones that he "can't wait to meet you in person, pal."
Hailee Steinfeld invited Jones to the Pitch Perfect 3 premiere.
Steinfeld also told Jones that he is "amazing," and the what makes him so special is that there is "only one you."
Josh Gad shared a heartfelt video back to Jones.
Gad told Jones, "We all love you," and he sent the message that "bullying is absolutely unacceptable."
Justin Bieber shared a video response as well.
Bieber called Jones "all-time" and "a legend" thanks to Jones' ability to maintain sympathy and compassion for others.
Demi Lovato shared a message to let Jones know he's "not alone."
She also told him that he will be "so much stronger" on the other side of this.
Zedd gave Jones props for speaking up and invited him to be his guest at one of his shows.
UFC Fighter Dana White has Jones' back.
White also wants Jones, whom he calls a "smart little boy," to join him at the UFC headquarters.
The Tennessee Titans quarterback hung out with Jones on Sunday, Dec. 10.
Jarrett Guarantano called Jones his "new best bud" and "the little brother I have always wanted."
While the messages of celebrity support might help Jones get through this tough time, it appears that Jones has more strength and compassion than you would expect of someone his age.
Jones closed out the video on a positive message, as he fought back tears, to help anyone else out there being bullied. He bravely told his mom, "I don't like that they do it to me. And I, for sure, don't like that they do it to other people, cause it's not okay!" He makes the wonderful point that everyone is different, that it is not an invitation to criticize someone just because they are different.
In the end, Jones had the strength to say, "But if you are made fun of, just don't let it bother you. Just stay strong, I guess. It's hard. But, it'll probably get better one day."
Bullying has been a national hot topic for some time now, and First Lady Melania Trump announced in September that she would use her new position to help combat childhood issues like bullying. One of her most recent actions involved Trump visiting a Detroit school in October for "No One Eats Alone Day."
Impressing upon young children (and even adults) that bullying is harmful in every way is a necessary step to help bring an end to bullying in schools. With people like Jones bringing awareness to the toll that bullying takes on a person, there may be hope that bullies can see the error of their ways.
Check out the entire Gen Why series and other videos on Facebook and the Bustle app across Apple TV, Roku, and Amazon Fire TV.