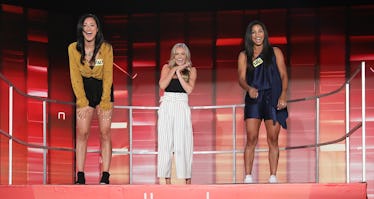 This 'Bachelor' Contestant Made Her First Appearance With Colton On 'Ellen'
Michael Rozman/Warner Bros.
We thought we were due for a Bachelor break, but thanks to Ellen DeGeneres, we already have a few hints about what kind of women we'll see on Colton Underwood's season of The Bachelor. Three of Colton's contestants were introduced during the new lead's appearance on Ellen, and while she didn't win the "Know or Go" game the trio played, one woman is definitely worth Colton's attention. We have a few more months until we'll really get to know her, but who is Colton's Bachelor contestant Katie?
Appearing alongside fellow contestants Sydney and Annie, Katie was the last of the women to speak, telling Ellen where she would take Colton on a date. Her dream day with the Bachelor would entail a trip to Malibu and a picnic at Pepperdine University, and she boiled the date down to being "something with food." With her references to Malibu and one of its colleges, Katie is clearly a California girl, so she must not be traveling far to Los Angeles' Bachelor mansion. If she makes it to hometown visits, will she create this date description to bring things full circle with Colton?
The game became a little rough for Katie on her second question, when she finished Ellen's "roses are red, violets are blue" rhyme with "so am I." Close, but not quite. Because her answer didn't rhyme, she was the first woman dropped to the mystery depths of the "Know or Go" platform. Call me crazy, but Katie's goofiness feels very reminiscent of former Bachelorette Kaitlyn Bristowe. Should we keep an eye on her when the time to pick the next Bachelorette rolls around?
Her appearance was fleeting, but from what we saw of her, Katie may fit Colton's checklist for a partner perfectly. Speaking to Ellen in an interview, Colton said that his dream wife needed to be "fun, spontaneous, outgoing...and somebody who's a good person and somebody who could be a good mother." It looks like Katie has fun and outgoing covered!
The 26-year-old lead also wasn't shy about his desire for kids during the talk show appearance, sharing that he felt born to be a dad. Say what you want about Colton becoming the Bachelor instead of certain fan favorites, but after last year's Arie Luyendyk often dancing around his feelings, having a Bachelor who knows how to vocalize what he wants sounds great. Let's hope Katie and the rest of the women avoid saying "I love that" this season.
Based on the track record of the contestants ABC has introduced early in the past, these women's chances of making it far in the season are mixed. Two of Bachelorette Rachel Lindsay's final four men were included in her sneak preview of contestants, but the only serious contender included in Becca Kufrin's early batch of men was eventual Season 14 runner-up Blake Horstmann. With only three women introduced on Ellen, what is the possibility of all of them becoming serious contenders for Colton's heart?
Although she might have to work on her rhyming skills, we'll have to wait and see how Katie recovers from her Ellen blunder on Night One of filming. Season 23 of The Bachelor premieres on Monday, Jan. 7, 2019, on ABC.