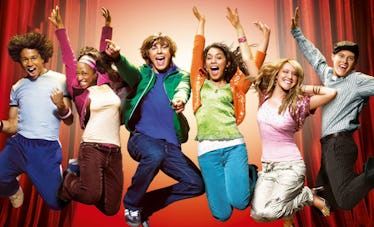 High School Musical' Just Cast Its First New Star, So Here's The New Troy Bolton
Disney Channel
Whyyyyy am I feeling so wrongggggg?! My head's in the game, but my heart's... breaking over the fact that the OG Troy Bolton has been replaced. That's right, the new Disney High School Musical: The Musical series has found its new Troy Bolton. Well, the guy who will be playing the guy who plays Troy Bolton in his school's production of High School Musical... Confused? Same! So, who is Joshua Bassett? The 16-year-old actor (yes, he literally was born in 2001) has just been announced as the show's new leading man.
The new High School Musical spinoff isn't going to be on Disney Channel, but rather on Disney's new streaming service being released within the next year. Gary Marsh, President and Chief Creative Officer of Disney Channels Worldwide, said in a statement regarding Bassett's casting, "Joshua's interpretation of the Ricky character was brilliant — funny, winning and, at the same time, uniquely vulnerable. The audience is going to love watching this charismatic young actor put his stamp on this next chapter of the High School Musical franchise." So, apparently, the new series' main character will be named Ricky. I would've gone with something like Zac, but that's just me! Bassett himself said of his casting,
As someone whose childhood was shaped by the cultural phenomenon that is High School Musical, I am thrilled to have the opportunity to continue to tell this story. Go Wildcats!
Bassett is a Disney Channel darling who appeared as Aiden on Stuck In The Middle. He's also had guest-starring roles in Lethal Weapon and Bravo's Dirty John. According to Entertainment Tonight, he's performed in over 30 musicals since the age of seven, so no need to worry about his singing talents (he also plays guitar, because that's basically a requirement for up-and-coming teen heartthrobs).
You might have seen Bassett at the 2018 Video Music Awards.
He's super excited about this casting, which is like, objectively fair. HSM is one of Disney's biggest franchises, so this role will probably shoot his career to new heights.
He posted the casting news to his Instagram on Oct. 17 saying the classic line, "GO WILDCATS !"
Andddd here he is performing a song he wrote himself, because of course the new Troy Bolton — uh, sorry, Ricky — writes his own songs.
Oh, and he plays piano too. Here he is playing another song he wrote.
Yeah, I'm OK with this casting. Homeboy can sing.
The whole premise of the High School Musical: The Musical series is going to be about Ricky trying to get back together with his girlfriend, Nini. Their school is putting on a production of High School Musical and Nini is auditioning, so Ricky decides to soar into that audition room to try and get into the show and get back with Nini. It will reportedly be structured like a docu-series — think The Office, Parks and Rec, and Modern Family — which is a style viewers haven't really seen on teen shows other than Netflix's American Vandal. It'll be interesting to see how that format translates on a Disney platform. Here's hoping the OG cast is somehow involved in this new spinoff.