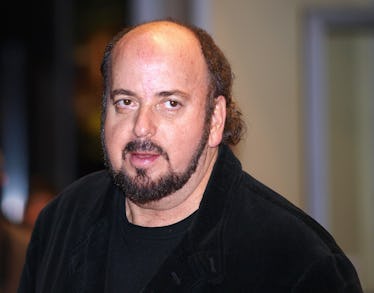 Another Set Of Troubling Sexual Harassment Allegations Are Rocking Hollywood
MAX NASH/AFP/Getty Images
More women are coming forward with allegations against another Hollywood figure, though his name may be less recognizable than Harvey Weinstein. The Los Angeles Times reported on Sunday, Oct. 22 that dozens of women had accused director James Toback of sexual harassment. And it's yet another example of widespread accusations against a man in the film industry.
According to The Los Angeles Times, the accusations against Toback document a pattern in which he approached women on the street or at businesses and mentioned his accolades or actors he had worked with. From there, the exchanges reportedly became increasingly sexual, including instances where he allegedly humped the accuser or masturbated, according to accusations from actors Adrienne LaValley and Terri Conn. Many of the women said they thought the behavior was part of a test, audition, or to show that they could handle a role.
The allegations against Toback are familiar. In the weeks since a New York Times investigation revealed allegations of sexual harassment and assault against Weinstein, some fifty accusations have mounted against the producer. In addition to well-known actresses like Gwyneth Paltrow, Angelina Jolie and Lupita Nyong'o, unknown actresses and employees at his company came out with accusations of their own. Weinstein has denied the accusations via a statement from his representative. "Any allegations of non-consensual sex are unequivocally denied," the statement said.
As it turns out, though Weinstein may exude an outsize influence over Hollywood, he's not the only man in the industry with a large scope of allegations against him. The Los Angeles Times initially reported on 38 women who came forward with accusations against Toback, a figure that had doubled by the afternoon, according to a tweet from Glenn Whipp, the reporter who wrote the story.
In the Los Angeles Times report, Toback denied the allegations of misconduct. Toback, 72, told the publication that it has been "biologically impossible" for him to engage in the misconduct outlined over the past two decades due to a heart condition and diabetes. He also told Variety that he did not know some of his accusers. (Multiple requests for comment to Toback's agent from Elite Daily were not immediately returned.)
Toback is known for writing the Oscar-nominated screenplay for the 1991 film Bugsy, and for writing and directing the 1987 semi-autobiographical film The Pick-Up Artist, and Two Girls and a Guy in 1997. Recently, Variety called his 2017 film The Private Life of a Modern Woman a "cinematic crazy-quilt."
Sari Kamin, a radio host, tells Elite Daily by phone that the growing accusations against Weinstein were the reason she decided to come forward with her own allegations against Toback. "The more I heard other women coming forward it just started to make me think that I wanted to say something, because I have just always felt really confident that James Toback has done this to not only me, but many, many, many other women and I felt like he might still be doing it," Kamin says.
Kamin was an aspiring actress when she was allegedly approached by Toback in 2003. In a post on Medium, Kamin wrote that Toback approached her at a Kinko's and showed his membership card to the Academy of Motion Picture Arts & Sciences, as well as a DVD of Two Guys and a Girl.
After several dinners when Toback allegedly discussed masturbating and asked Kamin about her own sexuality, Kamin says the writer and director brought her to a hotel. There, he allegedly asked Kamin to undress and rubbed his groin on her leg.
Kamin says that she went to dinners with Toback because of the "pressure in this business."
"Even though there was definitely red flags, I wanted to believe that he wasn't nefarious in what he was offering me," she says. "I just kept hoping that he told me that he wasn't just after me for sex and I wanted to believe that he wasn't lying."
In response to the allegations against Toback, some on Twitter said they already knew about his alleged behavior.
Meanwhile, others in Hollywood condemned Toback's alleged behavior. Rose McGowan, who settled with Weinstein over her own allegations, tweeted "damn you." Director Paul Feig called Toback a "disgrace." Asia Argento, whose allegations of assault against Weinstein were recently documented by The New Yorker, praised her "sisters for bringing down yet another pig."
Weinstein may have opened the floodgates, but Toback shows that the allegations are continuing to pour out.
Lilli Petersen contributed reporting to this story.