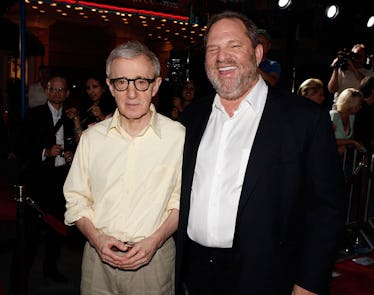 Woody Allen's Response To Harvey Weinstein Allegations Has Everyone So Pissed
Kevin Winter/Getty Images Entertainment/Getty Images
As allegations of sexual misconduct in Hollywood continue to add up, a director who's dealt with accusations of his own said he feels "sad" about it. Tweets about Woody Allen's response to Harvey Weinstein were quick to point out Allen's misplaced sympathy. Allen told the BBC that he'd heard rumors about Weinstein, but not "these horror stories" that have emerged publicly in recent days. And now, people are pissed because his comments suggest that he's more sympathetic to the accused than the accusers.
"The whole Harvey Weinstein thing is very sad for everybody involved ... Tragic for the poor women that were involved, sad for Harvey that [his] life is so messed up," Allen said.
The Academy of Motion Picture Arts and Sciences voted on Oct. 14 to expel Weinstein from the board that's behind the Oscars. Weinstein's films won 81 of the golden statuettes and have been nominated for 300. He's the second person in the Academy's history to get kicked out. (The Academy ejected actor Carmine Caridi in 2004 for sending a confidential film preview to a friend, that was posted online.)
In response to The New York Times and The New Yorker's reports detailing allegations of sexual assault and harassment against the producer, including accounts from actresses Gwyneth Paltrow and Angelina Jolie, Weinstein denied "any allegations of non-consensual sex" in a statement.
"Any allegations of non-consensual sex are unequivocally denied by Mr. Weinstein. Mr. Weinstein has further confirmed that there were never any acts of retaliation against any women for refusing his advances. Mr. Weinstein obviously can't speak to anonymous allegations, but with respect to any women who have made allegations on the record, Mr. Weinstein believes that all of these relationships were consensual. Mr. Weinstein has begun counseling, has listened to the community and is pursuing a better path. Mr. Weinstein is hoping that, if he makes enough progress, he will be given a second chance."
Before going to a rehab facility, Weinstein told paparazzi in a TMZ video that he was "not doin' okay ... I gotta get help."
According to the BBC, Weinstein has been acknowledged for helping give Allen's career new life after he was accused of molesting his adopted daughter, Dylan Farrow, in the 1990s.
Allen has long denied the accusations, which came to light in the wake of his split from actress Mia Farrow. "I naïvely thought the accusation would be dismissed out of hand because of course, I hadn't molested Dylan and any rational person would see the ploy for what it was," he wrote in The New York Times in 2014.
The couple reportedly parted ways because Allen was having an affair with Mia Farrow's adopted daughter, Soon-Yi Previn. Today, Previn and Allen have been married for two decades. Ronan Farrow, the reporter behind The New Yorker investigation detailing allegations against Weinstein, is the son of Allen and Farrow.
In addition to reacting to Weinstein, Allen warned of what he saw as the consequences of the allegations.
"You also don't want it to lead to a witch hunt atmosphere, a Salem atmosphere, where every guy in an office who winks at a woman is suddenly having to call a lawyer to defend himself," Allen told the BBC.
In response to the interview with Allen, some on Twitter wondered why a reporter would ask another man who's been accused of sexual assault to weigh in, given that the story is representative of a an issue many women face in the workplace.
Allen isn't the only director who's been sympathetic to Weinstein, and he's not the only one who's been roiled by his own scandal.
Director Oliver Stone also initially came to Weinstein's defense, telling The Hollywood Reporter that "It's not easy what he's going through either."
Later, Stone walked back his comments. "I'm appalled and commend the courage of the women who've stepped forward to report sexual abuse or rape," he wrote in a Facebook post.
While Weinstein has been kicked out of the Academy and fired from the company that bears his name, many on Twitter lamented that other high profile Hollywood figures, like Allen, Bill Cosby and Roman Polanski, who have all been accused of sexual assault, haven't faced any consequences over their own accusations. A retrial for Cosby's case begins on Nov. 6, and Polanski pleaded guilty on charges of statutory rape of a 13-year-old in the 1970s before fleeing to Europe.
After all, Allen's concern for "every guy in an office who winks at a woman is suddenly having to call a lawyer" is telling. Why would he be winking in office in the first place?