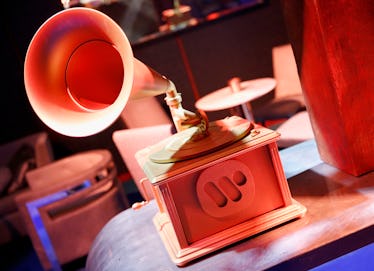 Here's What We Know About Who's Hosting The Grammys This Year
Brian Ach/Getty Images Entertainment/Getty Images
I don't know if you watch the Grammys as religiously as I do, but if you cancel any and all plans to watch it every year, you and I are probably on a pretty similar level. While the host of the highly respected award show hasn't been definitively announced for 2019 just yet, many are predicting that it's going to be the same person who has hosted it for the last two years. Yep, that's right — so since you've probably been wondering who is hosting the 2019 Grammys, just know there's a pretty good chance a familiar face could be back. Fingers crossed.
Maybe you have your own predictions for who will be hosting the 2019 Grammys, and I'd love to hear your input. But fans and media sources alike are currently predicting that James Corden will reportedly be hosting the 2019 Grammys once again, according to The Boot. Elite Daily reached out to Corden's representation for comment on the report, but did not hear back at the time of publication. If that's the case, this would be his third year hosting the highly-respected music award show, as he also hosted it back in 2017 and 2018 (impressive, I know!). So, rumors are solely based off the fact that Corden has simply been the host for the past two years, but it makes complete sense to me.
As an avid fan of Corden (aka I watch his show whenever I can!), I'm beyond thrilled that he might end up running the show, yet again. But according to Irish Examiner, on the other hand, not everyone is too excited about the prospect of it. Last year, many took to Twitter, taking digs at his sense of humor. A few others just didn't like how he was running the show. I personally thought he did an outstanding job in the past, but everyone is entitled to their own opinions, I suppose.
If you're thinking it's a little strange that Corden would potentially host for a third year in a row, it's actually not that unusual. In fact, according to The Hollywood Reporter, hip-hop artist and record producer LL Cool J hosted the prestigious music award show for five whole years in a row. That's right — he literally ran the Grammys for half a decade, from 2011 to 2016. So if you weren't entirely convinced, it seems as though the ceremony is pretty comfortable re-hiring past hosts. Especially if they're as much fun as Corden is... I mean, who doesn't love Carpool Karaoke?
As Twitter tends to get up in arms about pop cultural happenings like these, many also aren't particularly thrilled about Taylor Swift's lack of grammy nominations. The "Bad Blood" singer wasn't nominated for the Best Album category, and many were convinced that Reputation deserved it. Oh well — better luck next time.
With the Grammys coming up quickly in 2019, there's a lot to be excited about. Although the host isn't yet set in stone, fans are pretty convinced it'll be James Corden. Honestly, I'm beyond stoked about it, and am really hoping to see his outstanding performance on the Grammys stage, yet again.