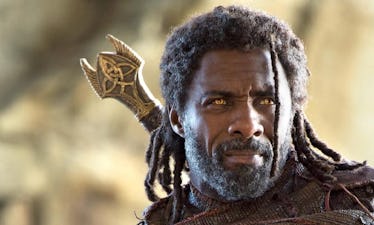 4 Things To Know About Heimdall Before Seeing 'Avengers: Infinity War'
Marvel Studios
If you're one of those Avengers fans who only watches the actual Avengers films and the individual movies of your favorite hero, you may have missed out on the secondary characters of one particular branch's films. Idris Elba's Heimdall, who originally appeared in the Thor films, is one of those Marvel characters that gets lost in the shuffle when you focus on the happenings of the Avengers films, but he's due for an appearance in Avengers: Infinity War, and fans are thrilled. Popular among viewers, Heimdall finally gets to play with the big dogs in Infinity War, so for fans who may not be familiar with his character, who is Heimdall?
Known as the all-seeing and all-hearing Asgardian, Heimdall has appeared in all three Thor films as a loyal subject to Odin, the former King of Asgard and Thor's father, and the guardian of Bifrost Bridge, the portal to the other planets in the Nine Realms and other planets in the universe. After having little to do in the first two films, Elba finally had his time to shine as Heimdall in Thor: Ragnarok. When we last saw him, he was watching the Avengers fight against Thor's sister Hela, left to carry other Asgardians to safety while Thor and his team tried to extinguish evil. At the film's end, he and Thor decided to bring the remaining Asgardians to Earth.
Although we don't know what kind of role he'll play in Infinity War, Heimdall will hopefully assist the Avengers in stopping supervillain Thanos and tracking down the Infinity Stones. If you want to figure out more about him before seeing Avengers: Infinity War, here are four things you should know about Heimdall before spotting him in Infinity War's epic lineup.