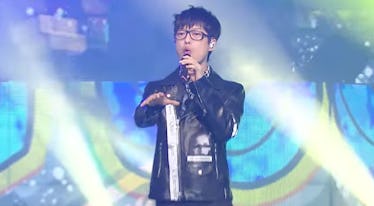 This Korean Rock Singer Performed At The Olympics Opening Ceremony & It Was Everything
MBC
The Winter Olympics are finally here, and PyeongChang, South Korea put on an incredible show to kick off the international athletic event. On Friday, viewers from all over the world tuned in to the 2018 Olympics opening ceremony to see all of the athletes march in, and also catch live performances by some of South Korea's biggest stars. One of the biggest performers at the ceremony was Ha Hyun-woo, the lead singer of the Korean rock band Guckkasten. Although they are a huge name in his native South Korea, the rest of the world may be asking who is Ha Hyun-woo while watching the Olympics opening ceremony. Get the lowdown on the explosive Korean rock band right here.
Hyun-woo took the stage with three K-pop artists to sing a cover of "Imagine" by John Lennon. It was seriously beautiful, albeit probably really cold, since the Olympic stadium in South Korea is open and it was only about 31 degrees at the time of the performance.
Some of the lyrics to "Imagine" by John Lennon go:
Imagine there's no heaven, it's easy if you try. No hell below us, above us only sky. Imagine all the people living for today. Imagine there's no countries, it isn't hard to do. Nothing to kill or die for, and no religion too. Imagine all the people living life in peace. You may say I'm a dreamer, but I'm not the only one. I hope some day you'll join us, and the world will be as one
Ha Hyun-woo took the stage with Ahn Ji Young of Bolbbalgan4, Jeon In Kwon of Deulgookhwa, and South Korean singer Lee Eun Mi.
Although Korean pop music (K-pop) has found huge crossover success internationally, Guckkasten and its lead singer Ha Hyun-woo don't exactly fit the K-pop mold. Instead, Guckkasten are attributed as being one of the prime examples of psychedelic rock in South Korea. The group rose to prominence after forming in 2007, consisting of four members: lead singer and guitarist Ha Hyun-woo, guitarist Jeon Kyu-ho, drummer Lee Jung-gil, and bass guitarist Kim Ki-bum. The group's name means "Chinese-style kaleidoscope" in German, a name that they chose to represent their psychedelic influences.
The band released their self-titled debut album in 2009, but had to re-record and re-release it the next year after a technological error. Their only other full studio album, Frame, came out in 2014, although the group did recently release a 7-track mini-album Stranger at the end of 2017.
Guckkasten's lead singer Ha Hyun-woo has become a breakout solo success as well, as his Olympics opening ceremony performance showcased. Throughout 2016, Hyun-woo starred on the Korean singing competition series King of Mask Singer, where he gained massive acclaim and set a record as the longest reigning "Mask King" in the show's history. The show works by pitting two singers against each other each week, but each would wear masks so that their popularity would not affect how fans voted. Hyun-woo remained the Mask King for 18 consecutive broadcast weeks, meaning that he reigned on the reality show for nearly half of 2016. After removing his mask once setting that record in June of 2016, he received a whole new level of fame as a solo artist in South Korea.
The 2018 Olympics opening ceremony included plenty of other performances, including opera singer Su-mi Hwang, who sang the Olympic anthem. We also saw amazing displays and fireworks, as well as each country participating in the games during the Parade of Nations. One of the most well-known K-pop groups in the United States, BTS, wasn't at the show, but they did get some recognition when their song "DNA" played during the Parade of Nations.
Best of luck to the countries participating in the Olympic games!
Erin Jackson is an inline skating world medalist and roller derby MVP. She dreamed of skating in the Olympics, but to do that, she had to get on ice. She took her first steps on a long-track course in 2016 and started training professionally in September 2017. Four months later, she qualified for the Olympic Winter Games. Check out Elite Daily Insights' video on Jackson's incredible story: