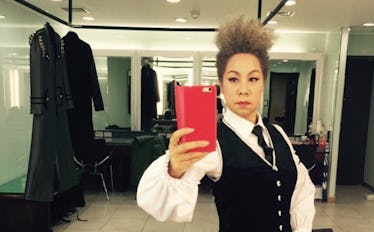 This Is The Korean Artist Performing The 2018 Winter Olympics Torch Relay Song
Instagram/Insooni
The 2018 Winter Olympic Games are rapidly approaching, and they're bringing a lot of awesome and exciting news with them. It was recently announced that Korean R&B artist Insooni is singing the 2018 Winter Olympics Torch Song at the Opening Ceremonies on Feb. 9. I spent the morning Googling Insooni, and not that I'm the Olympic song expert or anything, but her voice is that of a literal angel or an ethereal bird. She sounds amazing, and there's a definite 99.9 percent chance I'm going to cry during the Torch Lighting Ceremony.
According to Olympic.org, Insooni will be singing a song titled "Let Everyone Shine," which she performed earlier in 2017 at an event designed to mark the 200-days-to-go milestone in the Olympic timeline. The PyeongChang 2018 Director General of Culture and Ceremonies, Kim Dae-hyun, commented at the time,
Insooni's performance tonight of 'Let Everyone Shine' was a great way to launch the theme that will unite the nation and help share the Olympic spirit, as the Olympic flame makes its way across Korea from 1 November this year... She sang it with great passion and connected with the crowd celebrating the 200-days-to-go milestone of the Olympic Winter Games.
Since then, the torch has been traveling through the country stopping in 17 cities as it's made its way to PyeongChang. According to reports, the purpose of this journey is to highlight South Korea's culture, technological achievements, and monuments. It's also designed to unite the host nation and straight up get everyone pumped about the impending Winter Games.
According to Olympic.org, there are a lot of people who touch the torch. In fact, 7,500 torchbearers will participate in the Olympic Torch Relay while the flame makes its way to the Opening Ceremonies where Insooni will be performing. The final torchbearer's identity is always kept secret, and the world will find out who the lucky person is together on Feb. 9 when the torch reaches its final destination in the Olympic cauldron.
SO MUCH POMP AND CIRCUMSTANCE, NO?
While performing at the 200-days-to-go event, Insooni said,
I am honored to sing this very special song at the 200-days-to-go celebration and to be an ambassador for the Olympic and Paralympic Winter Games in PyeongChang. Music has the power to connect people, just like sport does. This is a special moment where the two have come together, and we can all celebrate this exciting time for Korea and look forward to an amazing event in 200 days' time.
Now, here we are with only two days left until show time.
If you want a sneak peek of Insooni and the song "Let Everyone Shine," check out the video below!
If you're not into spoilers, KEEP SCROLLIN', baby.
Gorgeous, right?
Here are just a few of the touching lyrics:
All of us gathered here share one dream / It is the moment to rise again, and follow the flame / With a shining dream deep inside of you / Together we can move forward one step at a time / When all our dreams come together / and shine as one bright flame
Let everyone shine / Let everyone shine and shine
Lighting up every corner of the world
Let everyone shine / Let everyone shine and shine
Shining on you, here and now / All the time
Our stories filled with dreams and passion / Will lead to new goals and hope for tomorrow / When all our dreams come together / and shine as one bright flame
Let everyone shine / Let everyone shine and shine
To make sure you catch Insooni and all the Opening Ceremony magic, tune in to NBC on Friday, Feb. 9, at 8 p.m. EST. You can also pop over to NBCOlympics.com or the NBC Sports app to catch the action.
Break a leg, Insooni! No pressure.
To learn more, visit teamusa.org. The Winter Olympics will air live starting February 8.
Erin Jackson is an inline skating world medalist and roller derby MVP. She dreamed of skating in the Olympics, but to do that, she had to get on ice. She took her first steps on a long-track course in 2016 and started training professionally in September 2017. Four months later, she qualified for the Olympic Winter Games. Check out Elite Daily Insights' video on Jackson's incredible story: