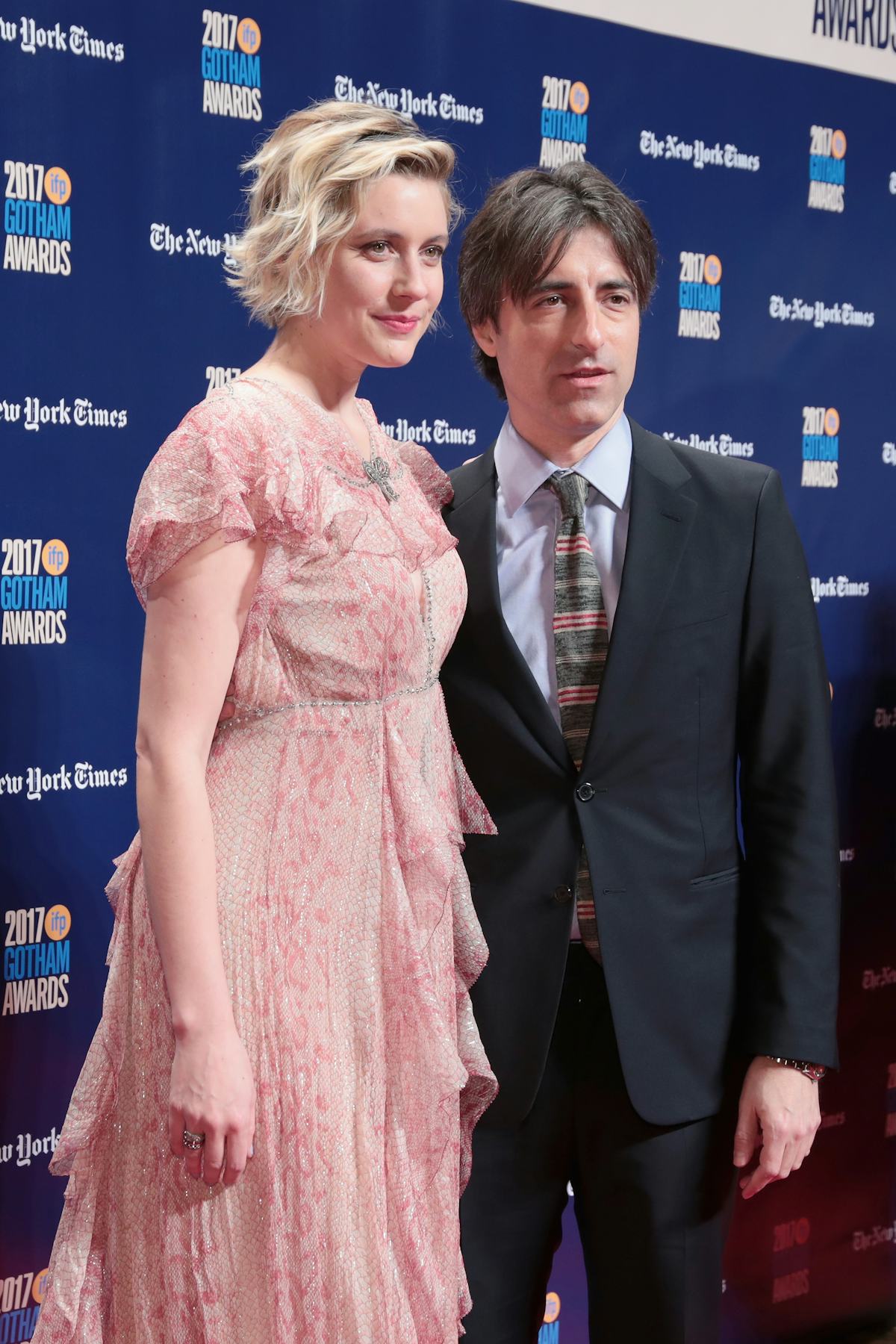 Greta Gerwig's Boyfriend Is Also In The Industry & They're A Total Power Couple
Cindy Ord/Getty Images Entertainment/Getty Images
Greta Gerwig has been working behind the scenes as well as in front of the camera for over a decade, but she made a groundbreaking splash in the entertainment world in 2017 with the comedy-drama gem, Lady Bird. Gerwig is the fifth female director to garner a nomination for Best Director, and her coming-of-age opus also earned her a nod for Best Original Screenplay. You may not realize that the multi-talented 34-year-old's fiance is also an accomplished director. Who is Greta Gerwig dating? She and Noah Baumbach are frequent creative collaborators.
Audiences took notice of a young Greta in 2007's indie darling Hannah Takes the Stairs. From there, the Barnard grad went on to star in a handful of similarly stylistic films throughout the mid-aughts that fall in the "mumblecore" genre, including Baghead and Nights and Weekends. Mumblecore refers to naturalistic filmmaking that features improvised dialogue and a low-budget aesthetic — a term Greta herself is not a fan of.
Gerwig then landed a leading role alongside Ben Stiller in Noah Baumbach's 2010 dram-com, Greenberg. Baumbach is perhaps best known for 2006's The Squid and the Whale, for which he earned a Best Original Screenplay nomination. He and Greta struck up a romance in 2011 and also call themselves writing partners — the couple co-penned 2012's Frances Ha, as well as 2015's Mistress America.
Baumbach spoke about how why their professional partnership works, telling Collider in 2015,
I mean we really share a lot of the same sensibilities, we like a lot of the same movies. In writing, behavioral building blocks are interesting to both of us, so when we start talking about doing something together, there's a lot of common ground, even though we're bringing in our own perspectives and our own lives to it, but it feels very easy. Both these scripts felt like they're very much of one voice—even though we're working on our own scenes separately. We bring them together and they would go together without having to do much to them.
Although Greta and Noah have achieved creative compatibility that translates into successful projects, the actress/writer/director/producer still stands on her own. She told The Guardian, "I don't mean to sound annoying, but I would have done it anyway. I will find that one door and then push it wide open. I'm lucky to find collaborators and kindred spirits. But I don't need a man, and I would have done it anyway."
Lady Bird is Greta's solo feature film directing debut. The film tells the story of a precocious seventeen-year-old high school senior dealing with some very relatable hardships of growing up, including coming to terms with who you are and where you came from. But just because the movie takes place in Gerwig's hometown of Sacramento and is set in 2002 (Gerwig is class of '03), does not mean its objective was to play out as an autobiography. "Because I spent so long writing it, and I worked so hard on the script to get it just right," she explained to CBS Sunday Morning about being bothered by that misinterpretation. "And I don't like the implication that it's not an act of imagination, because it is 100 percent an act of imagination."
Lady Bird is up for five Academy Awards at this Sunday's Oscars and Gerwig is the the first female director to get a nomination in eight years. She spoke to The LA Times about the impact she hopes her recognition will have:
And I hope that, honestly, I hope that girls or women who want to be filmmakers — sorry, I'm going to start crying again — look at this and they feel like, "Yeah, I'm going to go make my movie." And I hope that it does that. Because I selfishly want to see those movies … I couldn't be more excited for the next generation of women who want to make movies. And I hope that they can see me up there and feel like, "Hey, I can do that too."
Whether or not Greta goes home with a statue (or two) at this year's Academy Awards, Lady Bird fans —prepare to blast The Dave Matthews Band to celebrate.