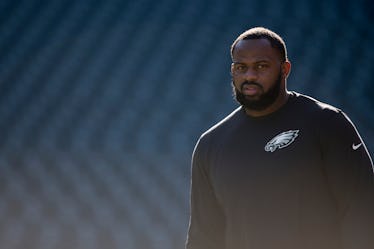 This Eagles Player Is In The Spotlight, But It's Not Because Of The Super Bowl
Mitchell Leff/Getty Images Sport/Getty Images
We are just a few days away from Super Bowl LII, where the Philadelphia Eagles will face the New England Patriots. But in the middle of preparing to take on the five-time champs, my beloved bird gang of underdogs has been forced to deal with a soap opera-level scandal that's been brewing since late fall. It centers on one seemingly simple question: Who is Fletcher Cox dating?
While it may seem like an easy question to answer, it's not. That's because one of Cox's relationships is currently in the spotlight due to an ongoing lawsuit. According to court documents, a man named Joshua Jeffords filed a lawsuit against Fletcher Cox back in November 2017 for over $25,000 for allegedly seducing his wife, Catherine Cuesta Jeffords. According to TMZ Sports, Cox is being sued for "alienation of affection." Elite Daily reached out to Cox's team and Jeffords' team for comment on the allegations but did not hear back by the time of publication. In court documents, Cox's attorney said that the relationship between Cox and Cuesta Jeffords was the result of "mutual attraction" and that Cuesta Jeffords "knowingly and voluntarily consented to the relationship." Cox is also now reportedly asking the court to drop the case, according to TMZ.
Did you know that you could sue someone for alienation of affection? Yeah, me neither. But North Carolina resident Jeffords claims in court documents that Cox seduced and had sex with his wife, Cuesta Jeffords when she was visiting the City of Brotherly Love. Cox is then alleged to have continued the relationship with her through text messages, and is therefore potentially liable for "alienation of affection" — which, it turns out, is a real thing in North Carolina.
Sounds super romantic when you put it that way. Meanwhile, according to Philly Magazine, Cox claimed in court documents that he didn't even know Cuesta Jeffords was married in the first place.
Philly Magazine also reports that when Jeffords found the text messages reportedly sent between Cox and Cuesta Jeffords, he confronted his wife about the alleged affair and asked her to "stop following Cox on Instagram." Instead, Cuesta Jeffords reportedly blocked Jeffords from her Instagram feed, continued on with the affair, and packed up her life and moved to Mullica Hill, New Jersey, not far from where Cox plays in Philadelphia.
So, does Cox have a chance of getting the case dismissed? According to North Carolina state law, Jeffords would have to prove three things in order to win his alienation of affection case. First, he'd have to prove that he and Cuesta Jeffords had a genuine love and affection. Second, he'd have to prove that said love and affection was alienated and destroyed. And third, he'd have to show that malicious acts of a third party (in this case, Cox) are what produced the alienation of affection.
But according to TMZ Sports, it's the first point that may prove to be an issue for Jeffords, since Cox reportedly said that "no genuine love or affection existed" between Jeffords and his wife.
As for whether or not Cuesta Jeffords and Cox are still dating, only time will tell, since the two would obviously keep things on the down low if that was the case. But that's probably a good thing, since the Eagles DT has bigger things to focus on right now — like bringing home the Vince Lombardi trophy at Super Bowl LII.
Of course, when Cox was recently asked about his previous Super Bowl memories, he told reporters that he's never actually seen a game.
"Nah, man. You know, I don't really watch football," he said. "Ya'll know that."
Here's hoping the first time's the charm.