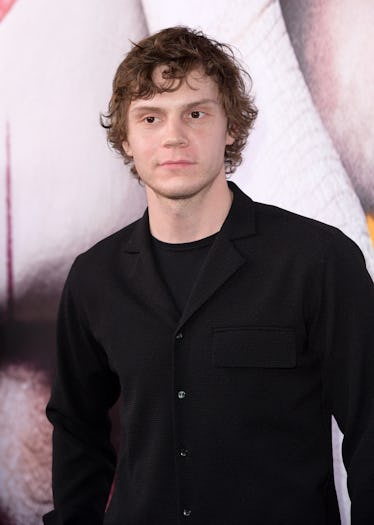 Evan Peters' 'AHS: Apocalypse' Character Is Still Unknown, But There Are Tons Of Options
Kevin Winter/Getty Images Entertainment/Getty Images
Evan Peters is an essential player in Ryan Murphy's arsenal of frequently used actors — he's appeared in every season of American Horror Story going into the anthology series' eighth installment. Peters is confirmed for the upcoming season, but details surrounding his part have remained slim. Who is Evan Peters in AHS: Apocalypse? Fans of the show are guessing how he'll fit into the Coven/Murder House crossover.
One thing of note already established regarding Peters' Apocalypse turn? The character is will be a "hairdresser." Hmm. An evil hairdresser a la the murderous Sweeney Todd? Honestly, it's anyone's guess at this point, but viewers can expect some laughs this time around. Evans' AHS: Cult role was eerily sinister and while I have no doubt he'll continue to dabble in darkness (AHS is based in horror after all), he will get to exercise his comedy chops.
"I'll tell you something about you, because I see how this is going," Ryan Murphy told Evan and the audience in April, according to Deadline. "The funny thing is, we shot Cult and it was very taxing on Evan, and around Thanksgiving, I was talking to Evan and he said, 'You know this show is so hard, it's so difficult to do'. So your part this year is a comedic part, you are comedic and you play a hairstylist.
Given that Apocalypse is a hybrid of two previous parts of the franchise, many former actors are expected to reprise roles from the past. Sarah Paulson will return as Billie Dean, Emma Roberts will be the witchy Madison Montgomery, and Jessica Lange steps back into Constance Langdon's designer heels. Other alums of the series are set to be featured on the new season — Adina Porter, Kathy Bates, Billie Lourd, Billy Eichner, Tessa Farmiga, Lily Rabe, Gaourey Sidibe, Frances Conroy, and Leslie Grossman will all lend their spooky skills. The incomporable songstress Stevie Nicks is also officially making a comeback.
One reason curious fans might want to stick to the fact that Evans' character could be an entirely new addition to the AHS roster is the fact that Joan Collins is officially going to play his grandma. That and the brief description regarding his profession is really all there is to cling to at the moment. Many characters' names have been revealed (Leslie Grossman's Coco St. Pierre Vanderbilt is a personal moniker favorite for mine), although Evans' title has yet to be released.
Evan Peters portrayed frat boy Kyle Spencer in Coven, who is killed and then subsequently resurrected. It seems unlikely that Kyle has somehow transformed into a hair stylist with a sense of humor, so that revival seems unlikely.
In Murder House, Peters took on the role of Tate Langdon, a psychopathic ghost who turned out to be a violent school shooter prior to his death. Tate did end up having son named Michael — um, aka, the Antichrist — who could very end up appearing on Apocalypse.
Evans ended up playing more than one person on AHS: Cult — perhaps his presence will come in multiple iterrations. The show is full of non-stop shockers and OMG-worthy moments, so anything is possible.