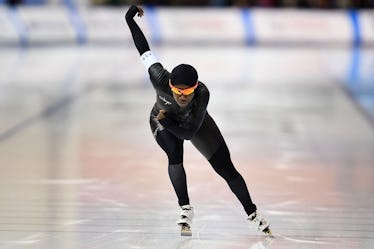 5 Things That Might Surprise You About Erin Jackson, The New Star Speed Skater
Stacy Revere/Getty Images Sport/Getty Images
Since snagging a spot on the Olympic long track speed skating team earlier this month, article upon article has been written about speed skater Erin Jackson — and understandably so. Jackson is not only the first African-American woman to ever qualify for the U.S. long track team (and the third to ever make the speed skating team), she's also the definition of a novice, having taken up the sport just four months before the Olympic trials. But her history-making athleticism is just the icing on the cake, really — Jackson's got a knack for succeeding in every field and endeavor, from baby beauty pageants to academia.
I had a chance to catch up with Jackson shortly after the trials, and can guarantee that her accomplishments and amicability stretch far beyond the world of skates and scholastics. (Full disclosure: I know Jackson personally from high school, and I've been high-key obsessed with her ever since. My mom made us matching corsages for prom, it was adorable.)
"It's still really hard to believe," Jackson says, when asked how it feels to end a whirlwind training season with a place on the Olympic team. "I had never been on the ice before 2016, and that was just for a public session." She even shared a video of her first, icy steps on Instagram this week.
And yes, Jackson's achievements are astonishing, but they're not all that hard to believe given her history. She's got the kind of talent and work ethic that makes for great Disney heroes (she really can go the distance), paired with a blend of humility, wit, and ease that's hard to find in any human being, let alone a decorated athlete. Before she could buy lottery tickets, Jackson was a world champion inline skater, and not long after heading to college, she was conquering the world of competitive roller derby as well — an experience she nonchalantly describes as "really crazy." (I mean, I could barely remember to feed myself and attend class my first year of college. But sure.)
To give you an idea of just how badass (and deeply relatable) this Olympian is, here are five facts that might surprise you about her.
1. Jackson could put Honey Boo Boo to shame.
"I started out doing beauty pageants," Jackson says about how her competitive life began.
Before ever strapping on a pair of skates (inline or otherwise), Jackson competed in beauty pageants as a little one. And like everything Jackson tries her hand at, she completely excelled. This toddler took home some tiaras, and was even awarded the title of "Gainesville's Cutest Kid" in the Florida town.
2. Jackson is a stable genius.
...but for real, you guys. Jackson was a National Achievement Scholar in high school (meaning she was one of about 800 students nationally recognized for her academic achievements) and graduated at the top of her class, all while balancing courses with her inline skating career.
As mentioned, Jackson also took up roller derby not long after heading to the University of Florida to study Materials Science and Engineering. So she was juggling two competitive roller sports and a full class load all four years of college, and still graduated cum laude. In other words, this beauty pageant babe's got brains.
3. She's actually "the laziest, slowest person."
OK, I'm not sure I totally buy this one, but Jackson is quick to describe herself as the laziest person around. When she's not training (as, uh, one of the fastest speed skaters in the country), you can likely find Jackson chilling on her couch and binge-watching shows like Suits and New Girl. Oh, and the Olympic athlete's got a penchant for junk food, too.
"Most people know me for eating a lot of junk food," says Jackson. "Honestly, the only reason I'm not eating like that right now is that I'm cooking for myself and I'm poor." Same, girl. Same.
4. Jackson hates the cold.
"The joke is that I didn't go to the ice [at first] because I don't like being cold," Jackson says.
Not what you'd expect from an Olympic speed skater, huh? But Jackson was born and raised in the Sunshine State, and admits that her reptile-level appreciation for warmth is what kept her from trying skating on the ice sooner.
5. Jackson's got an entrepreneurial side.
Making the Olympic Team was a complete shock to Jackson, so she's been flexing her entrepreneurial muscles and selling T-shirts (with the very catchy phrase #IceIceBaybee printed across the back) to raise funds so her dad can fly over to South Korea and watch her compete. If you'd like to help Jackson get her dad to the games (and honestly, why wouldn't you?), you can snag your own T-shirt or make a donation here.
Disney hero status, right? Right. Can't wait to cheer you on in PyeongChang, Erin!
To learn more, visit teamusa.org. The Winter Olympics will air live, starting Feb. 8.