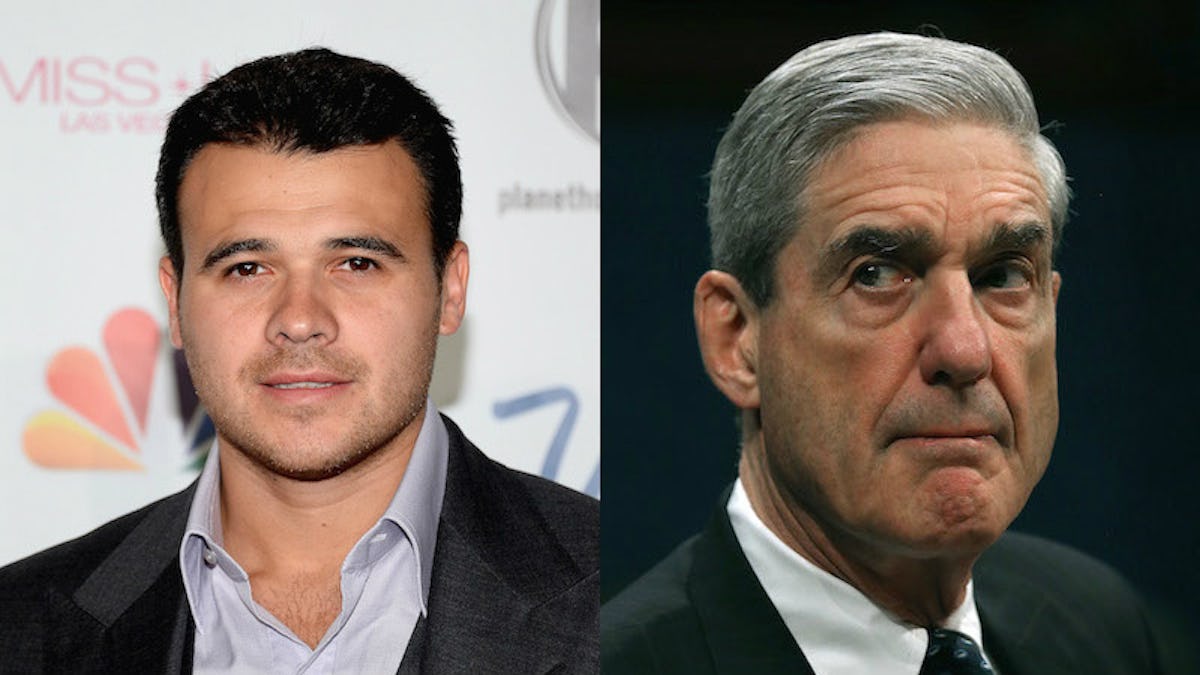 Robert Mueller Reportedly Wants To Interview A Russian Pop Star For An Interesting Reason
Ethan Miller/Getty Images Entertainment/Getty Images & Mark Wilson/Getty Images News/Getty Images
Just when I thought this Russian investigation couldn't be any more interesting, things have definitely taken a turn. By now it's no secret that FBI Special Counsel Robert Mueller has been investigating whether there's proof of collusion between Russia and the Trump campaign in the 2016 presidential election, but now he plans to bring an unfamiliar face into the mix. So, who is Emin Agalarov? Meet the latest player in this total political soap opera.
According to NBC News, Mueller wants to interview Russian pop star Emin Agalarov, whose family reportedly helped set up the infamous 2016 Trump Tower meeting and were partners in the Trump Organization's 2013 Miss America pageant in Moscow, Russia. The Department of Justice declined to comment on the potential interview to Elite Daily. In response to Mueller's interest in interviewing Agalarov, the pop star's lawyer, Scott Balber, shared with NBC News via email that talks are "ongoing."
"Conversations are ongoing" about a potential interview, the lawyer, Scott Balber, wrote to NBC. "Unclear how this will play out." I would like to declare the phrase "unclear how this will play out" as the official motto for 2018.
Emin Agalarov might not be the only member of the family Mueller is interested in speaking to. According to NBC, the special counsel may also like to interview Agalarov's father, Aras Agalarov, who is a billionaire with ties to Russian President Vladimir Putin.
For those who've forgotten about the now-historic Trump Tower meeting, here's a quick refresher. In June 2016, the president's son, Donald Trump Jr., as well as his son-in-law and senior advisor Jared Kushner and presidential campaign manager Paul Manafort, met with Kremlin-linked lawyer Natalia Veselnitskaya. Sounds like a party right?
To the attendees it might have been, but in July 2017, The New York Times reported that Trump Jr. had met with Veselnitskaya because she had compromising information on Democratic candidate and Trump Sr.'s then competitor, Hillary Clinton. Trump Jr. later confirmed the meeting and the reason behind its arrangement, tweeting out the entire email chain, including one in which he was promised "dirt" on Clinton. Trump Jr.'s famous response was, "if it's what you say I love it."
In July, Agalarov spoke to VICE about how he helped set up the meeting with Trump Jr., and implied that the president's son was doing the meeting as a favor.
He said,
I said, 'Listen there's some people that want to meet you. They obviously want something that could potentially help them resolve things that you could be interested in or maybe not. If you can spare a few minutes of your time, I'd be grateful. If not, no problem.' Obviously Don Jr., obviously being Don Jr., said: 'Of course. I'll do it if you're asking.'
In his set of July 11 tweets, however, Trump Jr. said that Veselnitskaya didn't provide any helpful information. "The information they suggested they had about Hillary Clinton I thought was Political Opposition Research," he wrote. He continued,
[Veselnitskaya], as she has said publicly, was not a government official. And, as we have said, she had no information to provide and wanted to talk about adoption policy and the Magnitsky Act. To put this in context, this occurred before the current Russian fever was in vogue.
Trump Jr. may claim that Veselnitskaya was no help, but the infamous meeting has been of interest for Mueller throughout his investigation. According to NBC News, Veselnitskaya said Emin Agalarov was "key" in setting up this meeting, so it comes as little surprise that Mueller is interested in hearing what the pop star has to say, or sing, about it.
Sit back and relax, everyone. It looks like this ongoing investigation isn't anywhere close to being over.