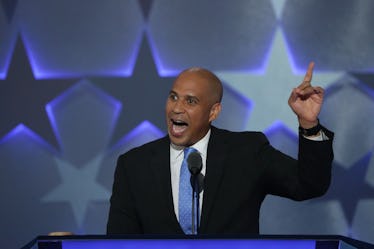 Cory Booker's State Of The Union Guest Is All About Big Dreams
Alex Wong/Getty Images News/Getty Images
A number Democrats who are widely projected to be 2020 presidential candidates are using their State of the Union invitees to highlight political causes. Senator Cory Booker (D-NJ) is no different. On Monday, Jan. 29, it was revealed in a statement that Cory Booker's State of the Union guest is Elizabeth Vilchis.
Vilchis is a 29-year-old tech entrepreneur and resident of Booker's home state who immigrated to the United States as a 7-year-old, a statement from the senator's office says. The State of the Union guest is also an undocumented immigrant who receives protections and legal status under Deferred Action for Childhood Arrivals, the program known as DACA.
The endangerment of DACA has been at the heart of negotiations and debate between Republicans and Democrats in Congress, which resulted in a temporary shutdown of the government this month. Protections offered by DACA are scheduled to end on March 5, in accordance with President Donald Trump's decision last September to rescind the program.
Should Congress not pass a law that extends those protections, immigrants like Vilchis may be subject to deportation.
"Liz encapsulates everything that is right about this country. She's bright, hardworking, and is making a positive impact on her community each and every day," Sen. Booker said in the statement. "Sending her back to a country she barely knows is cruel, heartless, and unjust. It's simply not who we are as Americans."
According to Sen. Booker's statement, Vilchis is in the midst of launching a venture capital fund for Hispanic entrepreneurs and serves as the head of a nonprofit organization called latinoTech. According to its website, latinoTech aims to "foster a community of Latinx innovators and leaders building companies that will influence the future of technology."
"I'm honored to join Senator Booker at the State of the Union address tomorrow," Vilchis said in Sen. Booker's statement. "The need for a permanent solution for dreamers is an issue that can no longer be delayed or ignored and I hope that my presence at the President's speech will make this point clear. The uncertainty that dreamers face each and every day is scary, debilitating, and all-consuming. We must find a path forward that is fair and humane and takes into account the contributions dreamers make to their communities everyday."
Members of Congress are all limited to inviting one person to each State of the Union address. The Speaker of the House — currently Rep. Paul Ryan (R-WI) — is the lone exception, with an allowance of 24 guests.
Sen. Booker's decision to invite Vilchis mirrors Senator Kamala Harris (D-CA), who decided to invite Denea Joseph, a UCLA alumnus and DACA recipient in Harris' home state of California. Senator Kirsten Gillibrand (D-NY) made also extended an invite that highlights a political cause, albeit one different from immigration reform. On Monday, Jan. 29, Sen. Gillibrand announced that she would be inviting Carmen Yulin Cruz, the mayor of San Juan, Puerto Rico.
Both the effort to secure funding for relief efforts in Puerto Rico and negotiations over immigration reform are expected to remain central to Congress' effort to agree on a new funding bill. The bill currently funding the federal government, which was agreed to on the third day of a government shutdown, will expire on Thursday, Feb. 8.
In his statement, Sen. Booker said he hopes the presence of immigrants like Vilchis will be on President Trump's mind as Republicans and Democrats continue to negotiate over the coming weeks.
"Unfortunately, there are hundreds of thousands of young people just like Liz across New Jersey and this country," Sen. Booker said. "Their lives have been thrown into chaos and uncertainty by President Trump's decision to end DACA. I hope when he looks out into the crowd tomorrow, he'll see the faces of Liz and others like her, and think about these Americans as their fate is debated in the weeks ahead."
The State of the Union address will across multiple networks on Tuesday night, Jan. 30.