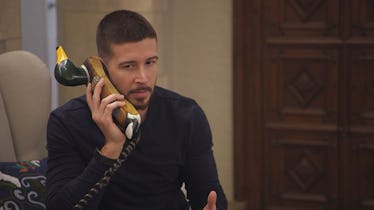 Vinny From 'Jersey Shore' Is Now Single, But Here's What You Should Know About His Ex
MTV
Amidst the greasy, extra buff group of men on Jersey Shore Family Vacation, Vinny Guadagnino was always the most relatable of the original guidos. Although he was always relatively private about his romantic relationships, Vinny made headlines recently for having a girlfriend during the filming of Jersey Shore Family Vacation. He has since split with Elicea Shyann, but she was still briefly introduced to viewers in the first episode of Family Vacation. Vinny has maintained his privacy as always, but the brief few months of fans knowing about Elicea inspired plenty of curiousity. So, although we may not see her appear on Season 2 of Family Vacation, who is Elicea Shyann?
When Jersey Shore Family Vacation began filming in January, Elicea was included in Vinny's intro package, appearing at his Staten Island home and seeming to fit in well with his boisterous Italian family. While being apart from each other for the show wasn't the exact reason for the breakup, the distance didn't exactly help. Speaking to Entertainment Tonight about his breakup, Vinny said:
But there was problems beforehand…[the show] is the type of thing that could really be the straw that breaks the camel's back. Not because I'm out there doing anything, you don't talk to the person for a month because you don't have a cell phone, you don't have a TV… you don't have communication so, you're like calling them every other day… On the duck phone! You can't even hear them. Plus, we had a long distance relationship; she's from California, I'm from New York, which can already be impossible for somebody…so a lot of things just made us feel like listen this can't happen right now, maybe down the line.
Since the breakup went public, Elicea has reportedly deleted all of her Instagram pictures with Vinny and has put her account on private. According to Life & Style, she works as an Instagram model, and although her account is still in strong shape with about 13,000 followers, it must be a big step to put what is essentially her livelihood on a private setting, Then again, she only has 44 posts, so perhaps that account is more of a personal one than professional.
Apart from her Instagram presence, there isn't much public information about Elicea out there on the internet. Girl, it's 2018, where have you been hiding?!
Vinny's few photos with Elicea remain on Instagram, but she has reportedly stopped following him on social media following their breakup. Apart from the initial statements he shared to ET about the news, I wouldn't be surprised if Vinny is done talking about the breakup. Add in the fact that Elicea lives in California and he's still in New York, and the same distance that contributed to their split will likely help each of them move on with their lives.
On this week's episode of Family Vacation, Vinny's flirty past with Nicole "Snooki" Polizzi stirred up some drama between the two, fueling Snooki's anxieties about her marriage to former Jersey Shore hookup Jionni LaValle. As far as we know, Vinny remained faithful to Elicea during Family Vacation filming, but looking back at this incident with today's context was a little cringeworthy. You know that feeling when you stumble across old footage of Jon & Kate Plus 8 from before the Gosselins' divorce? Yeah, watching this Snooki-Vinny conflict and knowing about Vin's breakup was a bit like that.
We wish the best to Vinny and Elicea as they sort out their lives post-split. Jersey Shore Family Vacation airs on Thursdays at 8 p.m. ET on MTV.