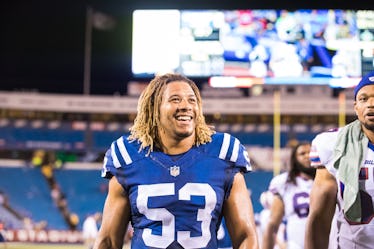 Trump Is Using An NFL Player's Death To Support His Immigration Agenda
Brett Carlsen/Getty Images Sport/Getty Images
On Tuesday morning, Feb. 6, President Donald Trump tweeted about immigration reform and the need for more border security. The president's tweets also referenced the death of NFL player Edwin Jackson, who died after being struck by a car that was allegedly driven by an illegal immigrant on Feb. 4. Like most of the Trump's tweets, the president's messages on Tuesday morning are bound to have reached a large audience, but those unfamiliar with the NFL are bound to ask the question: Who is Edwin Jackson?
Jackson was a 26-year-old linebacker for the Indianapolis Colts, a team he'd played with over a span of three seasons. The Atlanta native entered the NFL after playing four seasons of football at Georgia Southern University. Jackson's career as a football player saw him reach multiple successes after significant setbacks.
In college, Jackson had been a walk-on player, having tried out for the team at Georgia Southern without the benefit of a scholarship, which most high-profile college athletes are awarded upon entering a program. Jackson's professional career began in similar fashion, with him having only signed his first contract after going undrafted in the 2015 NFL Draft.
Jackson's life came to and end on Sunday, Feb. 4, the day of the Super Bowl. Jackson was the passenger of an Uber driver and asked the driver to pull over because he felt ill, the Atlanta Journal-Constitution reports. Reports claim that while the driver and Jackson were outside of the car, standing on the shoulder of an interstate highway, a suspected drunk driver rammed a pickup truck into the two men, killing them on the scene, according to an account provided to various media outlets by Indiana State Police.
On Tuesday, President Trump called the incident that led to Jackson's death "one of many such preventable tragedies," and alluded to immigration negotiations between Republicans and Democrats.
"So disgraceful that a person illegally in our country killed @Colts linebacker Edwin Jackson," President Trump tweeted on Tuesday. "This is just one of many such preventable tragedies. We must get the Dems to get tough on the Border, and with illegal immigration, FAST!"
In a separate tweet, the president expressed condolences for the athlete's family. "My prayers and best wishes are with the family of Edwin Jackson," Trump wrote, "a wonderful young man whose life was so senselessly taken."
Vice President Mike Pence, who once served as governor of Indiana, also tweeted about Edwin's Jackson's death.
"On my way to Alaska," Pence's tweet reads. "I was very saddened to hear of the passing of Indianapolis @Colts linebacker Edwin Jackson. This was a senseless & avoidable tragedy. This is a great loss for the entire Indiana community. My prayers are with his family in their time of grief."
Indiana State Police have determined that Jackson was struck by 37-year-old Guatemalan citizen Manuel Orrego-Savala who had been deported twice, once in 2007, and again in 2009. He is being held as a suspect in the crash but had not been charged as of Monday, per the Associated Press. Elite Daily reached out to Marion County for comment, but did not hear back at time of publication. Orrego-Savala also had a previous drunk driving conviction on his record, having been stopped while driving under the influence in 2005, according to the Atlanta Journal-Constitution, which cited a statement from U.S. Immigration and Customs Enforcement (ICE).
Trump's tweet about Jackson's death comes at a time when Republicans and Democrats continue to stand at odds with each other over how to achieve immigration reform. The failure to come to an agreement over such reform led to a government shutdown on Saturday, Jan. 20.
A new deadline to avert a government shutdown, Thursday, Feb. 8, is approaching without any agreement on immigration in sight. In the meantime, President Trump has pointed to the death of NFL player Edwin Jackson to help argue for more border security.