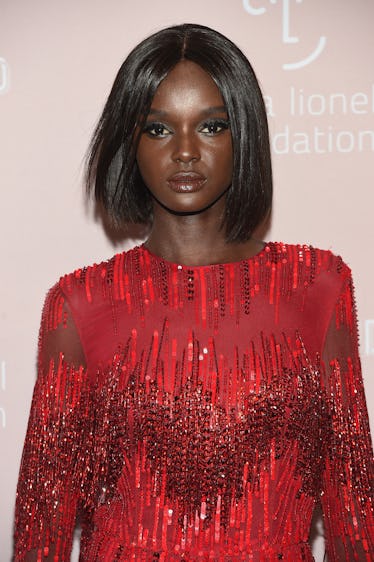 Meet Duckie Thot, The Victoria's Secret Model You Should Definitely Have On Your Radar
Dimitrios Kambouris/Getty Images Entertainment/Getty Images
Duckie Thot is making waves in the fashion world right now. Not only is she incredibly beautiful, but she's a game-changing model who's ready to be a household name. So, exactly who is Duckie Thot? And what about her is so special that you need to know who she is? Well, for starters, she's got a striking presence in front of the camera. The South Sudanese-Australian supermodel, who is only 23, was recently on the cover of Marie Claire South Africa.
Not only that, but she's defying stereotypes and pushing the fashion industry toward a more inclusive future.
Since Thot is definitely in need of more recognition for her work and influence, here are some things you need to know about her:
She was the face of Fenty Beauty
Superstar Rihanna launched Fenty Beauty back in September 2017, so it's been over a year since the cosmetics brand has been on the market. And in that time, Thot has basically become the face of the brand. Since Fenty Beauty strives to be as inclusive as possible, it caters to all complexions — a big task in an industry that often caters to lighter skin tones, neglecting customers with deeper skin tones. But Fenty Beauty is doing it and Thot was at the center of that effort when the brand launched in 2017. As a dark-skinned model, Thot has successfully put a face to a customer base that's often ignored by beauty's biggest brands, an aspect of Fenty Beauty's mission that has most certainly contributed to its success. So, she's definitely changing the game along with Fenty Beauty!
She's super passionate about her work
When Thot found out she was going to be a Victoria's Secret Angel, she had the kind of reaction anyone with a lifelong dream would: one of total joy and excitement. Thot posted a video of the moment she found out about her new gig on Instagram and, in watching it, it's clear how much this opportunity means to her. She even said as much in the video's caption.
"Words can't express how much this means to me, thank you @victoriassecret for the opportunity of a lifetime. This moment means the world. Always believe you can do anything 🙏🏿," she wrote.
You can check out the video down below:
She's worked with the best of the best in the industry
At just 23-years-old, Thot has worked with some of the most prestigious designers out there. From Oscar de la Renta and Moschino to Yeezy and Jeremy Scott, designers are simply lining up to work with her. And as a young model, that's such an amazing accomplishment. She can only go up from here and she still has so many years ahead of her.
Something tells me she's a legend in the making! I can definitely see Thot being in the same league as Naomi Campbell, Cindy Crawford, and Gisele Bündchen one day. Whatever comes next for Thot, I'm sure she's going to bring the same level of passion, talent, and utter joy to it as she does for everything else.
Be sure to look out for Thot at the 2018 Victoria's Secret Fashion Show on Dec. 2 at 10 p.m. ET on ABC.