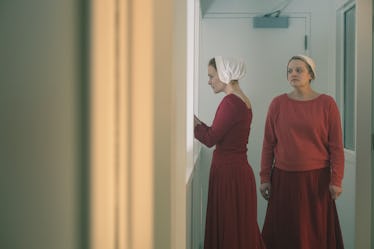 This New Character On 'The Handmaid's Tale' Is Making Things Even More Intense
Hulu
After a truce developed between Offred and Serena Joy last week in the face of a common enemy, this week, reality stuck. The relative calm of the household sans Commander Waterford was shattered when he came home. But before both Offred and Serena could cope with the loss of power, a new crisis caught both their attention, drawing them closer together once more, as they both agreed on the need for Dr. Hodgson. Who is Dr. Hodgson on The Handmaid's Tale? Warning: Spoilers for The Handmaid's Tale Season 2 follow.
According to Serena Joy, the good Dr. Hodgson was literally the best neonatal surgeon in the world. Or, at least she was... before. As far as Gilead is concerned as a woman of color, all she's good for is being a Martha.
But the situation has reached a critical point. The Putnam family's child is dying. Fans will remember the Putnams were the family that Janine, known then as Ofwarren, was assigned to. She had her child early in Season 1, but her emotional postpartum depression caused her to have a bit of a psychotic break, insisting the child's name was Charlotte and that she was keeping it, even though everyone knows that's not how it works here in Gilead.
The Putnams are at the end of their rope on how to heal their child, now known as Angela. Worse, Janine, who viewers saw returned to Gilead last week, gets word the baby who is so ill is "hers," and goes off the deep end. With the child so gravely ill, Serena honors Offred's request to let Janine see her one last time while plotting to bend the rules to save the child's life.
At first, Serena does try to go through the proper(ish) channels. It's within Fred's power to put in a "temporary transfer" for the Martha to return to her old job for a day, and see what she can do to save the baby's life. It's not exactly kosher, but it's not totally illegal either. But Fred is not inclined to listen to the idea that a woman (and a Martha of all things) could somehow be better at this than a man. Fans should also keep in mind that before the explosion, Fred was less than confident about his place in the power dynamic at work, which would also account for his refusal to listen to Serena's pleas.
But Serena has been forging documents and signing her husband's name for weeks now. Really, what's one more? He's only working a part-time schedule anyway, he probably won't even notice. Moreover, Serena deeply believes that saving the baby's life is worth it.
The good doctor is stunned when she's brought up the back stairs and finds herself in the NICU. At first, she can't comprehend that she's been brought there to actually do the job they took away from her. Meanwhile, the Doctor-in-Charge is practically doing the "I'm not worthy" bow, and scampering to do whatever she wants, just so he can spend a few hours basking in her knowledge, which makes Serena highly uncomfortable.
But Serena's transgression turns out to be a step too far. When Fred heads up to Offred's room and sees Serena's thank you tokens to the handmaid for her help as an editor, he realizes something is up between them. He discovers all of the documents the two women worked on together.
Worse, Dr. Hodgson's diagnosis is grim. The baby is dying. There is little to be done. Serena's transgression too far got them caught, and was for naught.
The Putnams are heartbroken, but not as much as Janine. At least they allow the poor thing in to say goodbye. At this point, what harm could it do?
No harm at all. Instead, a miracle occurs. Held by her true mother, the fever breaks and baby Angela (or Charlotte) lives through the night. Perhaps Serena can rest a little easier knowing she helped, even if it ruined everything in her own home.