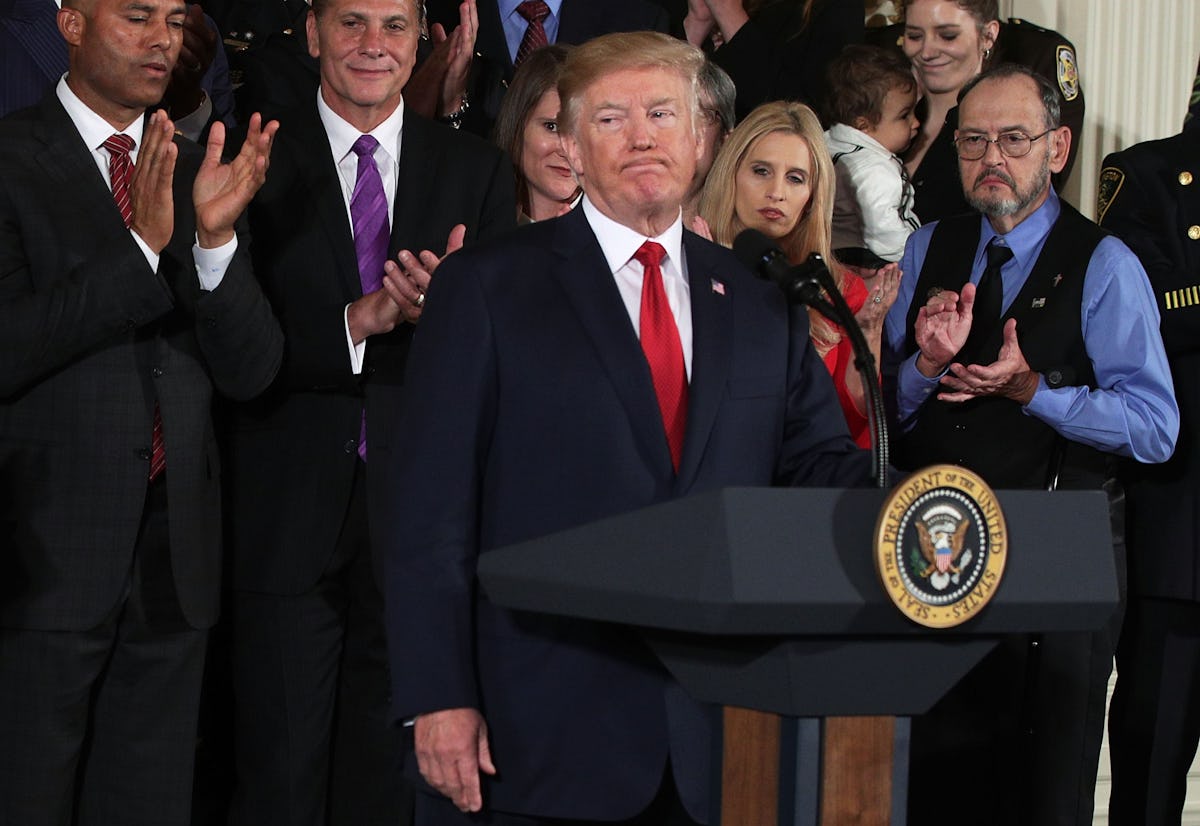 Trump Doesn't Drink Because Of A Devastating Family Story
Alex Wong/Getty Images News/Getty Images
President Donald Trump delivered a speech on Thursday, Oct. 27, regarding the American opioid crisis, reserving a few lines for a personal story. The president spoke about his older brother, Fred, who lived a life that featured alcoholism and died in 1981. For those who don't aren't familiar with the story, the president's brief mention of Fred might not have been enough to answer the basic question: Exactly who is Donald Trump's older brother?
On Thursday, the president covered some of the ground required to answer that question, when he said during his speech in the East Room of the White House,
I learned, myself — I had a brother, Fred — great guy, best-looking guy, best personality — much better than mine. But he had a problem. He had a problem with alcohol, and he would tell me, 'Don't drink. Don't drink.' He was substantially older, and I listened to him and I respected, but he would constantly tell me, don't drink. He'd also add, don't smoke. But he would say it over and over and over again.
And to this day, I've never had a drink. And I have no longing for it. I have no interest in it. To this day, I've never had a cigarette.
Fred Trump Jr. was the firstborn child of the president's father, Fred Trump. According to multiple accounts, including a CNN feature on the Trump siblings, Fred Jr. was known to have little interest in the family business, unlike his younger brother Donald. In 2016, Trump told the New York Times that "Freddy" was, "caught sort of in the middle as somebody who didn't really love [the business], and only because he didn't really love it, he wasn't particularly good at it."
Here and there, President Trump mentioned his older brother during the 2016 presidential campaign, as he did during a televised town hall featuring other family members.
The president's most notable recounting of Fred Jr.'s story, however, came during that aforementioned New York Times interview, in which he candidly discussed his older brother's downfall. According to the Times' report, Fred Jr. enjoyed a passion for aviation instead of real estate. When the eldest Trump sibling began heavily drinking around his mid-20s, Donald Trump, then just a college student, would berate him, the report says.
As younger brothers Donald and Robert continued on a path toward becoming executives in their father's company, Fred Jr.'s experienced a divorce and quit flying, the Times reports. Four years after Donald Trump had his own first wedding to Ivana Trump, Fred Jr. died. Donald Trump told the New York Times,
He would have been an amazing peacemaker if he didn't have the problem, because everybody loved him. He's like the opposite of me.
It was clear why the president mentioned his brother during his speech on Thursday. Trump declared the American opioid epidemic a "public health emergency," — a declaration which holds importance — telling those in attendance at the East Room,
Nobody has seen anything like what is going on now. As Americans, we cannot allow this to continue. It is time to liberate our communities from this scourge of drug addiction.
During the speech, Trump proceeded to emphasize the importance of providing cautionary tales to younger Americans in order to deter them from engaging in drug use. He said,
They will see the devastation and the ruination it causes to people and people's lives. Watch what happens, if we do our jobs, how the number of drug users and the addicted will start to tumble downward over a period of years. It will be a beautiful thing to see.
As President Trump has mentioned on numerous occasions, his older brother, Fred Jr., is one of those cautionary tales.