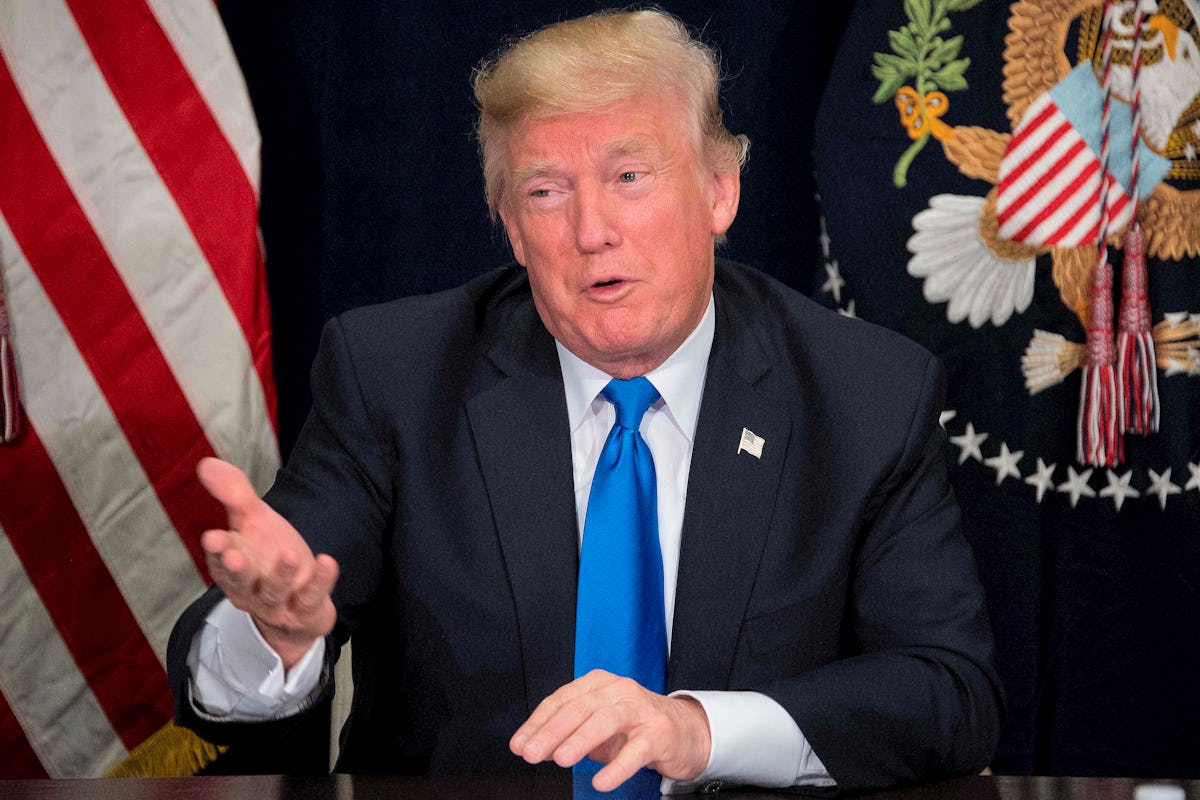 This Is What Trump Is Doing About The Opioid Epidemic
JIM WATSON/AFP/Getty Images
On Thursday, Oct. 26 President Donald Trump announced that the opioid epidemic is a "public health emergency," declaring that it is a serious issue for the country to contend with. The epidemic of both prescription and non-prescription drug abuse has heavily affected rural America and has taken 59,000 lives in 2016. Today, it is the leading cause of death among Americans under 50.
First lady Melania Trump spoke before her husband, President Trump and expressed her plans to tackle the opioid crisis with a focus on how it affects children, which is a cornerstone in her legacy as first lady. Melania said,
To help babies succeed, we must help parents succeed. This can happen to any of us. No state has been spared and no demographic has been untouched. by using every resource available. I look forward to continue my work on behalf of children across the country.
Trump declared it the "worst drug crisis in America history, and if you think about it, world history." He deemed the opioid crisis a "world-wide problem" and went on to say,
We will announce a new policy to overcome a strict 70s'-era rule that prevents states from providing care at treatment facilities for those suffering from drug addiction. You should expect to see approvals very, very fast, not like in the past.
Trump did not say much detail on what the policy will actually outline and only that change will be implemented very soon.
As of now, there is no guarantee that federal funds will be reallocated to stop the epidemic. The U.S. Department of Health and Human Services (HHS) public health fund currently has about $57,000 going towards the drug epidemic. However, senior officials told Politico that Trump may ask Congress for more opioid funding in an end-of-the-year spending bill, which would help secure money for just the HHS efforts.
"There are ongoing discussions with Congress about what is the appropriate level of funding to address the emergency," a senior official said to Politico.
The acting HHS Secretary Eric Hargan signed a declaration of emergency, which is expected to let public health agencies give existing resources to combatting the crisis, expand access to telemedicine, and allow easier access to prescriptions that are commonly used for substance abuse or mental health treatment, according to Politico. It would also broaden medical treatment to rural areas like some parts of Illinois, where there is great opioid use and a lack of supplies for doctors.
Tackling opioids was one of Trump's key campaigning points, promising to fix the problem once he was elected into office. However, he proposed building a wall as a way to combat heroin overdoses, which, um, is one idea.
This is technically the second time Trump has described opioids as an "emergency" issue. In August, Trump stated, "The opioid crisis is an emergency, and I'm saying officially right now it is an emergency. It's a national emergency. We're going to spend a lot of time, a lot of effort and a lot of money on the opioid crisis." However, in no way did his language turn into action. Just a month later, the New York Times reported that nothing had been done in the month to change the situation. Patrick J. Kennedy, former Democratic congressman and member of the White House Commission on Combating Drug Addiction and the Opioid Crisis said a change would only happen if the urgency was more explicit. Kennedy told the the New York Times, "It's going to require, obviously, a state of emergency," Kennedy said, who is a recovering addict himself.
The declaration of public health emergency that was signed on Thursday can last up to 90 days, but can be renewed, according to Politico.
Trump said the White House Commission on Combating Drug Addiction and the Opioid Crisis, under Governor Chris Christie, has been gathering research and meeting with medical professionals and will have a final report next week. "After we review the commission's findings," they will implement accordingly, Trump said.
Trump called the epidemic "truly evil" and that opioids will be "taken off the market immediately." He also said there was "nothing desirable about drugs. They're bad," which is definitely what Americans addicted to drugs need to hear.
Trump urged all Americans to participate in the "National Prescription Drug Take Back Day," this Saturday, Oct. 28, and closed by saying in no uncertain terms, "We will overcome addiction in America."