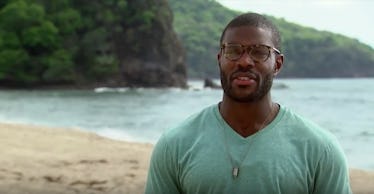 Here's Everything You Need To Know About Diggy, 'Bachelor In Paradise''s Latest Addition
ABC
Just when you thought the Bachelor in Paradise beach couldn't get any more crowded, another familiar face gets ushered down to the beach by Chris Harrison. The latest addition to BIP Season 5 is none other than Diggy Moreland, and you probably recognize him from his last stint in Paradise. The dapper Chicago inventory analyst is shaking things up on the Mexico sands, so it's probably time to brush up on his history with the franchise. You might be wondering, just who is Diggy on Bachelor in Paradise? Let's get filled in on his Bachelor-verse past, shall we?
Diggy, whose real name is actually Kenneth, initially appeared on Season 13 of The Bachelorette, vying for Rachel Lindsay's heart. He was eliminated in week 4. Even with an early-ish exit, Diggy quickly became a fan favorite among Bachelor Nation and fans were happy to see him return for Bachelor in Paradise Season 4 last year. It was there where he first connected with Lacey Mark and then went on to strike up a relationship with Dominique Alexis. The couple seemed solid until Jaimi King entered the picture, capturing his attention enough for him to accept her date invite. Diggy and Jaimi hit it off, but their situation went into friend-zone territory. Diggy didn't find everlasting love on reality TV yet, so why not give the process another shot?
Diggy's former BIP stay wasn't successful in the conventional sense, aka he's not engaged or whatever's supposed to happen when one "wins" the show, but it looks like the experience was fruitful for him in other ways. Following last season, he even took to Instagram to show love for a few of his fave fellow cast members (shout out to Wells, Kristina, and Jack Stone), and express his gratitude for the opportunity.
"But I'm definitely grateful for all the fun times that I had with the BIP crew this year. We went through a lot, and we came out stronger as a result. I'm excited that I've developed some great friendships, but more excited that I won't have to AirBnB in yalls cities," a portion of his sentimental caption read.
"I don't think everyone is ready for a serious long term relationship, but I do think you come out of these experiences learning more about yourself and others and you know what you want in the long run!" Moreland explained in an interview with The Huffington Post last year when asked if he felt his fellow cast members were really ready to walk down the aisle.
According to RealityTVWorld.com, Diggy was a senior inventory analyst for Groupon and has worked at companies such as Nike and PepsiCO. His Instagram reveals he recently started up a fashion blog offering up style advice and guidance, aptly titled More Than a Tie. Fun fact: he actually got his nickname Diggy because his classmates complimented his "digs."
In a 2017 chat with Glamour, Diggy was proud to call himself a feminist. He told the mag:
I think what makes any relationship work is you have your thing that you're passionate about, and I have my thing, and together we can achieve it. I think it's healthy to have something you're extremely passionate about. I think if the wife is going to just be passionate about whatever the husband is passionate about, it's just not healthy. I love a woman who has something she's really passionate about, [and] I want to do whatever I can to help you get it.
Now that he's back for round two of BIP, will Diggy find the woman he's looking for? Could his date with Olivia develop into something more even though she's going something going with Venmo John? All that's for sure is the clock is ticking on his Paradise journey since the show is coming to close next week.