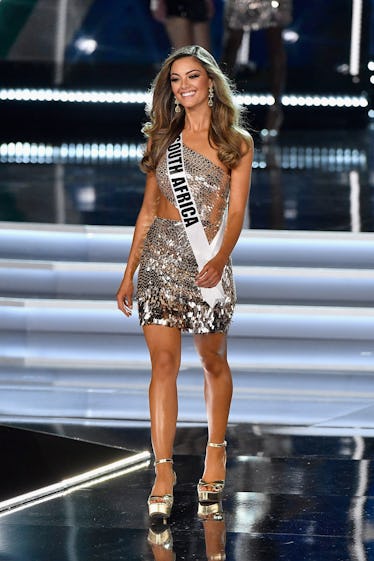 Meet The New Miss Universe 2017, Demi-Leigh Nel-Peters
Frazer Harrison/Getty Images Entertainment/Getty Images
On Sunday, Nov. 26, Steve Harvey (correctly!) announced that Demi-Leigh Nel-Peters, from South Africa, is the Miss Universe 2017. It was a tense few hours as 92 women from across the globe competed for the grand, global title. The choice came down to three final contestants representing Jamaica, Colombia, and South Africa. After going through the geographic region finals, the contestants competed in swimsuit and evening gown demonstrations as well as a series of questions. Ultimately, Nel-Peters was the one to take it all home for South Africa.
Aside from just winning the title and glory of being Miss Universe 2017, Nel-Peters wins a yearlong salary and a luxury apartment in New York City. Not a bad deal, honestly. Miss Universe also gets representation from WME IMG, which is Miss Universe's parent organization and, of course, an epic modeling agency.
This year is the 66th annual Miss Universe. The competition took place at the Planet Hollywood casino and resort in Las Vegas, Nevada. The 92 contestants were the largest pool of candidates Miss Universe has ever seen, which makes Nel-Peters' victory even more impressive.
Nel-Peters is 22 years old and recently graduated from North West University with a degree in business management. In the final three rounds, each contestant was asked which of their qualities they are most proud of. Miss Jamaica, Davina Bennett, said she was proud of her drive and determination, according to the New York Daily News. Laura González, who is Miss Colombia, talked about her passion and compassion. Nel-Peters, meanwhile, spoke about her confidence.
"As Miss Universe, you have to be confident in who you are as an individual," Nel-Peters told Steve Harvey, "and Miss Universe is a woman who has overcome many fears and by that she is able to help other women overcome their fears. She is a woman that nothing is ever too much to ask for, and I think that is exactly who I am."
It was that very confidence that propelled her to the Miss Universe 2017 crown. González (Colombia) went on to be named the first runner-up while Bennett (Jamaica) was the second runner-up.
You can see the magical moment where Nel-Peters found out she is Miss Universe 2017 right here:
Many people were ecstatic about Miss South Africa's crowning and took to Twitter to congratulate her.
Although, of course, there were lots of folks who disagreed with the final decision... especially those who were cheering for Miss Jamaica.
While there were always people who were going to be disappointed in the final Miss Universe 2017 pick, Nel-Peters clearly isn't letting the haters get in her way.
She sent a video message to South Africa after winning the crown.
Nel-Peters comes from Sedgefield, Western Cape, in South Africa. She speaks English and Afrikaans. She is motivated by her half-sister, who lives in Potchefstroom, South Africa, with her stepmother and father, and who has a disability. Nel-Peters helped to create a self-defense training program for women; that's where the idea of confidence and helping women overcome their fears comes in.
Nel-Peters' passion to help women learn self-defense comes in part from her own experience, she explained during the competition. In June 2017, Nel-Peters survived an armed car-jacking. The Miss South Africa organization confirmed then that she was "shaken by the incident but unharmed."
So Nel-Peters helped start the Unbreakable campaign with self-defense workshops in September. Before surviving the car-jacking, Nel-Peters had taken workshops about self-defense herself. "I am a firm believer that knowledge is power and the information I learned on these courses certainly helped me. So now together we will set up similar workshops," she said in August about the new program, according to Wheels24.
Hopefully, her victory on Sunday night will help inspire many other women to stand up for themselves and feel empowered in the face of danger. Congratulations Miss South Africa!