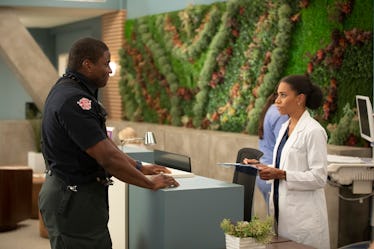 'Grey's Anatomy' Just Introduced A New Love Interest & He's From 'Station 19'
ABC
This season, ABC's Shondaland has made a significant change to how they are handling the Thursday Night lineup. Initially, it was three different shows in three different worlds, and never the three shall meet. But with the arrival of Station 19, set "three blocks down the street" from Grey Sloan Memorial Hospital on Grey's Anatomy, crossovers were inevitable. Still, the are crossovers, and then there what these shows are doing, which is practically one big series with two casts, some of whom are making inroads to the other, like Dean Miller. Who is Dean Miller on Station 19? He's totally hitting on Maggie.
Dean Miller is a bit like Alex Karev was when he started out on Grey's, a guy who uses his positions to make the moves on the ladies. The Station 19 character descriptions before the premiere last spring characterized him as "a single bachelor who uses his firefighter job to entice the ladies. He's honest but walks the line with being a jerk."
When Miller turned up last week at Grey Sloan, he made a bee-line for the newly single Maggie. (At least we think she's single. She's single until Jackson comes back. That is, if Jackson comes back. And maybe even single after he comes back.)
Upon seeing Maggie, Dean was like "Did you see her self-assurance?....And her eyes?" Suddenly, he had no problem waiting around the hospital on "Captain's Orders" as he did a moment earlier.
Maggie, meanwhile, is still trying to figure out what a "spiritual sabbatical" is that Avery went on, which Dr. Bailey sneered was probably more of a "spiritual spring break." She was also far more interested in the deal with her patient, who had suffered a heart attack a few weeks before the fire that brought her in and probably wasn't going to make it.
Maggie's obliviousness makes Dean's attempts at flirting fall flat at first. So when he asks her out straight ways, she burst out laughing in his face. "I had a fiance named Dean once."
And then her patient began to circle the drain again. So Dean's waiting around in hopes of a date were for naught. At least for now.
But just because Maggie turned down Dean this week doesn't mean he won't be back. This is a crossover week, and Dean Miller and Dr. Pierce are now working on the same case from the other angle, as the son of her patient runs away upon realizing his mother is dying.
Will this relationship get another chance as the two shows keep crossing over? Grey's Anatomy is only renewed for two more seasons, and though Ellen Pompeo says she's willing to keep going as long as the fans support them, the fact is once she decided she finished playing the character, the show is over.
With Shonda Rhimes now at Netflix, ABC will only have Station 19 and How To Get Away With Murder left, and they need both shows to be able to carry on without a Grey's lead in. The more relationships they can foster tying those at Grey Sloan to those at Station 19, the better off everyone will be when the time comes.