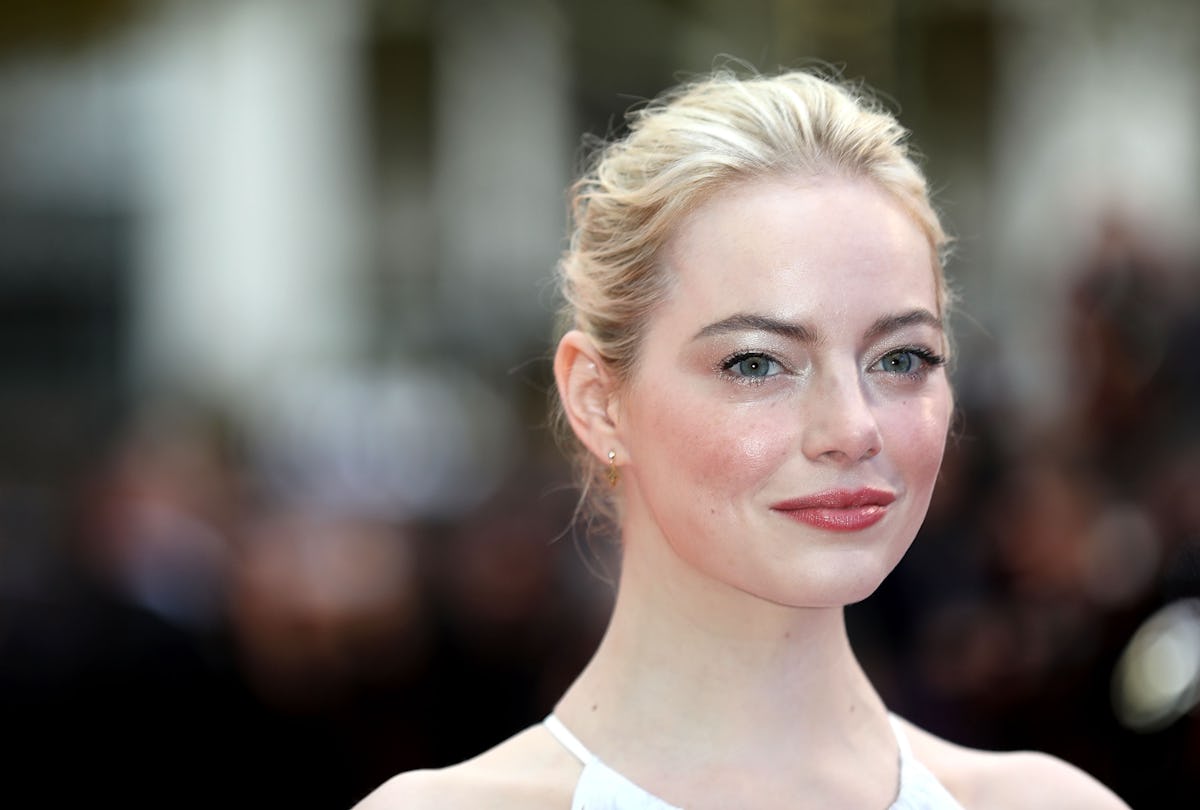 Emma Stone Reportedly Has A New Boyfriend, & He's Very Behind The Scenes
Tim P. Whitby/Getty Images Entertainment/Getty Images
Shut your eyes, Andrew Garfield/Emma Stone shippers. The La La Land star has a new boyfriend, and he's a pretty big deal at Saturday Night Live. Emma Stone is dating Dave McCary, an SNL writer/segment director, according to Us Weekly, and it all sounds like a match made in funny people heaven.
On Oct. 25, Page Six reported that Stone and McCary have been dating for months. The two supposedly met last year, when Stone guest-hosted an episode of SNL, and McCary directed her in the sketch "Wells for Boys." McCary has been working on SNL since 2014, and co-founded the sketch comedy group Good Neighbor, alongside childhood friend and SNL cast member Kyle Mooney.
Stone and McCary were spotted leaving the premiere of Brigsby Bear, which McCary directed, back in June. A source told Celebrity Insider that the relationship is "casual" at the moment, and that they're keeping things under wraps.
"Some of the show staff knew about them being together, but they keep things very quiet," the source said. Elite Daily reached out to a representative of Stone, but did not hear back by the time of publication.
Stone has discussed having a complicated relationship with fame in the past, which might explain why she's not exactly bopping around town publicly with McCary yet. She told The New York Times in January 2015,
It's uncomfortable to have photographers outside of your home. That's never going to feel good, and I don't think that's O.K. Yet there's also a goal to live life normally. So, if they photograph you walking to the same restaurant every morning, like you do when you live in a neighborhood ­— Honestly, I try not to think about it any longer than when it's happening.
Our emotional landscape is what we deal with all day. So you have to find this fine line between making sure you maintain who you are as a person, so you can act, without becoming violently protective of your privacy, which can make you shut down.
McCary is the first person Stone has been linked to since her four-year relationship with Spider-Man co-star Andrew Garfield ended.
It's not completely clear when the two broke up, but it's reported to have happened sometime around October 2015. But, that doesn't mean the pair aren't forever supportive of each other, or that you should be currently cursing McCary's name.
Just look at Garfield giving Stone a standing ovation when she won a Golden Globe for La La Land.
Stone also told Vogue in October that Garfield is "someone I still love very much," while adding,
It's been interesting. It's been a good year. And sad. Pros and cons.
Garfield definitely seemed to share similar sentiments. When asked by The Hollywood Reporter in December which of his co-stars he would most like to be stuck on a desert island with he responded,
I love Emma. She's all right. She can come.
D'awwww. It all sounds so, so healthy. Because, really, how many of your exes can you genuinely say that you'd like to be stuck on a desert island with?
Stone is notoriously private about her relationships, so don't expect her to discuss McCary anytime soon.
When The Wall Street Journal asked about her relationship with Garfield back in 2015, she said,
See, I never talk about this stuff for this exact reason — because it's all so speculative and baseless. Once you start responding — once you're like, 'No, that's not true' — then they're like, 'Well, if we push enough, we'll get a comment, so let's see what else we can make up.' I understand the interest in it completely because I've had it, too. But it's so special to me that it never feels good to talk about, so I just continually don't talk about it."
No word yet on whether or not Garfield is dating anyone, but, given the fact that he has all the charm in the world and a British accent, I don't think he'll be single much longer. In the meantime, I'm officially giving the pair the Best Exes of The Year award.