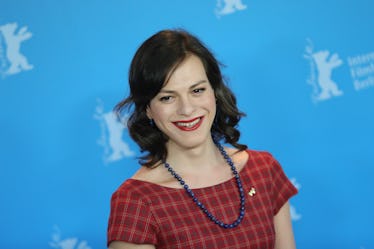 This International Star Will Be The First Transgender Actress To Present At The Oscars
Vittorio Zunino Celotto/Getty Images Entertainment/Getty Images
Even though there are still 4 days until the Oscars, the Academy has already broken barriers by nominating a woman for the Best Cinematography award for the first time in its 90-year history. During Sunday's awards show, the Oscars will be celebrating another first when Daniela Vega hands out an award on Hollywood's biggest night. Who is Daniela Vega? She's the star of A Fantastic Woman, nominated in the Best Foreign Film category, and the first openly transgender star to present at the Academy Awards.
A Fantastic Woman stars Vega as Marina Vidal, a young opera singer who is left mourning the loss of her boyfriend Orlando after he dies suddenly. Rather than accept Marina into their arms, Orlando's family shuns her for being transgender, and her situation becomes even more complicated when the authorities show the same transphobic bias as Orlando's family. Vega first became involved with the film as a consultant to director Sebastián Lelio, but he soon realized that no one else could play the lead role as well as Vega herself. "I knew I could I knew I could pay a price for making Daniela the focal point of the film, but if it succeeded, then we would gain something precious," Lelio told Variety. "Her physical presence carries the story in a way no other person's can."
Before her breakthrough in A Fantastic Woman, the 28-year-old star trained as an opera singer and worked in local theater productions throughout Chile. Vega's feature film debut came in 2014 with The Guest (called La Visita internationally), a drama about a son who comes out as trans at a family funeral. Vega believes that allowing trans actors to play trans characters heightens the sense of reality in films like A Fantastic Woman and The Guest. In a January interview with Vanity Fair about her new film, Vega didn't mince words about the benefits of hiring a trans actor:
The fact that I am trans provides the script and narrative with a higher level of truth. But, more importantly, it opens a door into the movie world that had never been explored before, because I am a trans actress playing a trans woman.
In addition to Vega, Yance Ford will be making history at this year's Oscars as the first openly transgender filmmaker to be nominated for an award. Ford is nominated in the Best Documentary Feature for his Netflix Original documentary Strong Island, a riveting portrait of the personal toll of racism and police bias. In 1992, Ford's brother William was murdered by a white mechanic in Long Island, New York, but despite being the victim of the crime, police decided that William provoked his attacker, thereby justifying his murder. "If my making history makes it easier for a trans kid at home somewhere to feel more at home in their skin, then I'm so excited about that," Ford told the Los Angeles Times about his Oscar nom.
Vega rounds out a group of presenters far more diverse than in years past. Joining the Chilean actress onstage are past winners Mahershala Ali, Viola Davis, and Emma Stone as well as relative newcomers like Chadwick Boseman, Gal Gadot, Tiffany Haddish, and Zendaya. Clearly, the Academy has learned from the #OscarsSoWhite controversy, and they're ready to start making the kind of changes that movie fans are desperate for. Let's just hope that the same logic extends to the actual awards. It's about time that Greta Gerwig or Jordan Peele — only the fifth woman and black man ever nominated for Best Director, respectively — get the recognition they deserve. Gerwig's Lady Bird and Peele's Get Out have been falling to Three Billboards Outside Ebbing, Missouri all awards season, but we're hoping that the Three Billboards momentum will wane to allow these boundary-pushing films to shine.
The 90th Oscars air on Sunday, March 4 at 8 p.m. on ABC.