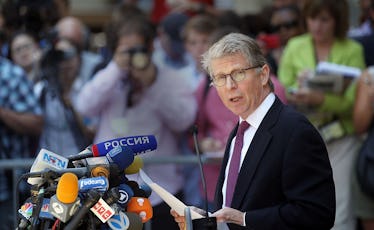 This Prosecutor Dropped Cases Against The Trumps & Harvey Weinstein
Mario Tama/Getty Images News/Getty Images
When an investigative report revealed that Ivanka and Donald Trump Jr. were once investigated for fraud, the name of the Manhattan district attorney was a key detail in the report. Days later, when a separate investigative report revealed over a dozen allegations of sexual harassment against Hollywood mogul Harvey Weinstein, the name of the Manhattan district attorney, again, was a key detail. Now more focus is being given to that name, with subsequent reports providing more answers to an increasingly relevant question: Who is Cy Vance?
The answer has become the subject of national news. Cyrus Vance is, in fact, that Manhattan district attorney, who in the span of a single week was at the center of two bombshell reports. Most notably, both reports claimed that Vance ultimately decided not to prosecute cases against two famous parties that appeared to have engaged in evident wrongdoing.
Ivanka And Donald Trump Jr.
The first case was revealed on Wednesday, Oct. 4, by a collaborative report from three media outlets: the New Yorker, WNYC and ProPublica. The joint effort detailed how Ivanka Trump and her older brother, Donald Trump Jr., were investigated by the Major Economic Crimes Bureau at the Manhattan district attorney's office over a two-year period that began in 2010.
The case revolved around both Ivanka and Don Jr.'s business practices and whether they had been misleading buyers of units at the Trump SoHo hotel and condominium in Manhattan. Among the evidence against the Trumps were emails in which, according to ProPublica, it was made clear that both siblings knew they were using inflated statistics to attract business at the property. Elite Daily reached out to the White House for comment from Ivanka Trump when the report came out but did not hear back. The Trump Organization's chief legal officer, Alan Garten, referred ProPublica to the company's civil litigation filings, which called complaints "a simple case of buyers' remorse."
However, Vance would eventually decide not to prosecute the case. The decision happened to come after Donald Trump Sr.'s attorney, Marc Kasowitz — who also happens to be a donor of Vance's — paid a visit to Vance, an event which creates a suspicion of impropriety. Vance provided comment to ProPublica in the face of that suspicion, saying,
I did not at the time believe beyond a reasonable doubt that a crime had been committed. I had to make a call and I made the call, and I think I made the right call.
Harvey Weinstein
The second case revolves around Harvey Weinstein, the disgraced film mogul who has been the subject of a wave of accusations of sexual assault. Among the names of women who claim Weinstein acted inappropriately are Gwyneth Paltrow and Angelina Jolie.
On Tuesday, Oct. 10, the New Yorker published a report that resulted from a 10-month investigation into Weinstein's conduct and included an audio recording of the him admitting to grabbing a woman's breasts.
Vance's office had access to the tape, but still decided against taking action. A statement from the district attorney's office provided to the New Yorker read,
After analyzing the available evidence, including multiple interviews with both parties, a criminal charge is not supported.
In a statement to provided to Elite Daily and other outlets, Sallie Hofmeister, Weinstein's spokeswoman, said he denied the accusations:
Any allegations of non-consensual sex are unequivocally denied by Mr. Weinstein. Mr. Weinstein has further confirmed that there were never any acts of retaliation against any women for refusing his advances. Mr. Weinstein obviously can't speak to anonymous allegations, but with respect to any women who have made allegations on the record, Mr. Weinstein believes that all of these relationships were consensual. Mr. Weinstein has begun counseling, has listened to the community and is pursuing a better path. Mr. Weinstein is hoping that, if he makes enough progress, he will be given a second chance.
Both reports — the accounts about the Trumps and Weinstein— detail events in which a district attorney decided not to prosecute very powerful people despite having evidence in which both parties seemingly admit wrongdoing.
In both cases, Vance has responded by asserting that the neither pieces of evidence met the standard of proof needed to prosecute the cases.
In any event, Vance's name has become the subject of many headlines, and not for any flattering reason.