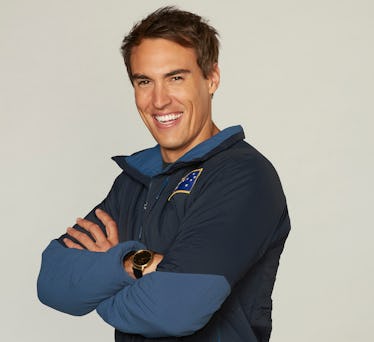 This Australian 'Bachelor Winter Games' Contestant Will Have You Swooning Already
From suave French Canadians to beach bum Australians, The Bachelor Winter Games cast seems to include men that fit everyone's type. If you're into an energetic, happy-go-lucky guy, Australian contestant Courtney Dober may be one for you to watch during Winter Games. The 31-year-old joins the Bachelor alum competition after first appearing on Season 2 of The Bachelorette Australia, and based on how he stole viewers' hearts on that show, he could easily become a new fan favorite in the U.S. Before Winter Games kicks off on Feb. 13, we have to know: Who is Courtney on Bachelor Winter Games?
Originally from Sydney, industrial designer Courtney came in fourth place when he tried to find love with 27-year-old Bachelorette Georgia Love (you definitely can't make up the coincidence of that last name). Georgia accompanied him on a hometown date, but the intimate experience didn't exactly improve their bond. Before the rose ceremony that week, Georgia chose to send him home early after he admitted he hadn't fallen in love with her yet.
Gosh, Courtney, one or two filmed dates with a stranger isn't enough for you to just know?
Just kidding, that's actually super endearing to hear from a Bachelorette contestant.
Following his surprise elimination, Courtney opened up about getting dumped, telling the Daily Telegraph:
I just couldn't fall in love in that time. I was getting there and I would have loved to spend more time with her to see where it goes, and I told her multiple times I wish I met her on the outside world... but I am not someone who falls in love within three dates.
In another post-show interview, Courtney discussed the challenging effects that the last few weeks of filming had on his mental health:
It was such an emotional rollercoaster, towards the end I was getting these bouts of anxiety and stuff that I've never, ever felt before and I just wasn't myself. I thought, 'f***, what I am doing? This is painful.'... It was more or less me just going over all the scenarios in my head and why I was feeling the way I was. I'm a very deep thinker and that was definitely part of my downfall.
Although he trained as an industrial designer, Courtney's YouTube page also reveals that he completed acting classes and has found a new passion in TV work. Well, now we get why he's willing to do Winter Games. It's easy TV exposure for him, but without a normal Bachelor spinoff's major romantic pressure that seems to have badly scarred Courtney in the past:
Being someone who loved inventing and building things from a young age I furthered my studies as soon as I left high school and completed an Advanced Diploma in Product Design... Upon discovering the practical side of the desgin industry has been taken over by computer software, I decided to travel the world in search of life experience! And some sort of direction... Since returning I have found my true passion through TV presenting and this has seen me complete acting classes and TV Presenting courses...
In a showreel posted to his website, clips of Courtney's hosting gigs are available, but seeing as these are different from reality TV appearances, I'm actually not too skeptical about how genuine he is. Just look at how adorable he is in that Santa hat!
Rumors of Courtney romancing former Bachelor Australia contestant Leah Costa flew around this past summer, especially after Leah posted an Instagram shot of the pair captioned, "So many theories."
While his new TV career and possible recent fling with another franchise member is a little sketchy, I can't help but feel excited to find out more about him on Winter Games. After all, he clearly has a great sense of humor.
And he's pals with his dad, which is always a good sign.
Then, of course, there's this.
I know I'll be watching out for Courtney on Winter Games. Let's hope he doesn't disappoint!
The Bachelor Winter Games premieres on Tuesday, Feb. 13, at 8 p.m. ET on ABC.