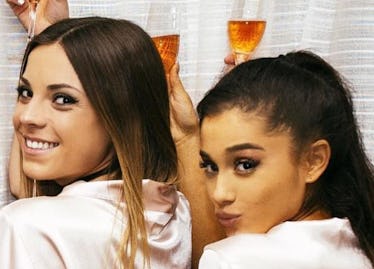 One Of Ariana Grande's Best Friends Has A Major Role In The "Thank U, Next" Video
Ariana Grande is one of the most successful people on the planet. And one of the things all her fans love about her is that she brings those she cares about along for the ride. Wherever Grande is, you can always count on her mom, Joan, or brother, Frankie, being nearby. But she also keeps her friends very close. She is frequently seen with her bestie Alexa Luria as well as her good friend Courtney Chipolone. You can often see glimpses of Chipolone on Grande's Instagram, and she'll even be in Grande's "Thank U, Next" music video. So, who is Courtney Chipolone? Well, she's way more than Grande's best friend.
For starters, Chipolone is pretty well-known on Instagram. With over 220 thousand followers, Chipolone is pretty much an influencer on the platform. And, of course, a lot of that has to do with her friendship with Grande.
Chipolone has sometimes been referred to as Grande's "cousin," which is something Grande herself started when she posted a photo of the two on Instagram on Nov. 19. Whether the two are actually cousins is not entirely clear, but what's clear is that the two go way back. Both of them grew up in Boca Raton, Florida, and Chipolone still attends school in Florida (she goes to Florida State!), so they met in their hometown.
Obviously, the specific details of their friendship aren't known, but Chipolone has at least been associated in public with Grande since 2016, when the two were photographed together at a friend's wedding. The photo was posted to Instagram by Chipolone and that was the very first time anyone saw the two friends together.
And in a 2017 Instagram post, Chipolone wished her bestie a happy birthday. "Happy birthday mama," Chipolone wrote in the post. "Love u more than i love an 80 pound wheel of parmesan cheese with a side of fig spread."
So, in 2017, Grande and Chipolone were pretty close. And that closeness is likely the reason Grande gave Chipolone a major role in her "Thank U, Next" music video, which is set to drop Friday, Nov. 30. So, what role is Chipolone taking on? A bunch! She's going to be one of the famous Mean Girls, and she's also seen as a cheer squad member in the scenes from Bring It On.
Check out Chipolone in the video down below:
As you may have heard by now, Grande's video for "Thank U, Next" will pay homage to Mean Girls as well as a few other iconic films from the early 2000s. Grande's other bestie Alexa Luria (pictured above) will also be included in the video, and a slew of stars will be making cameos, too. Overall, the video is expected to be incredible and Grande's definitely hyping it up as much as possible. So is Chipolone, actually.
Chipolone posted this photo of herself, Luria, and Colleen Ballinger from the video shoot:
And Grande herself has also been posting photos from the shoot that include Chipolone:
So, overall, Grande truly values Chipolone and tries to show it every chance she gets. And Chipolone is obviously a great friend in return!