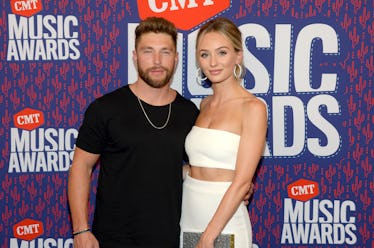 Who Is Chris Lane? Lauren Bushnell's Fiancé Is Popular In His Own Right
Rick Diamond/Getty Images Entertainment/Getty Images
In 2016, Bachelor Nation fell in love with Ben Higgins, the Season 20 frontman who initially competed for Kaitlyn Bristowe's heart on The Bachelorette. But we weren't the only ones who fell hard. Lauren Bushnell left with a ring on her finger and Higgins on her arm, and after a year together and a reality TV show, they broke up in May 2017. Now, two years later, Bushnell is engaged, and this time, it looks like it's for real. But who is Chris Lane? Bushnell's fiancé is popular in his own right.
Bushnell announced her engagement on her Instagram page with a super sweet photo of her and the 34-year-old musician, and an even sweeter caption. "I can't stop smiling," she wrote. " I feel so incredibly blessed that every misstep, mistake and heartache has led me to you. I couldn't be happier to call you mine, forever. The journey was well worth it. Thank you Christopher Eric Lane for softening my heart and making it whole. Never going to stop telling you how much I love you and I will hold onto you forever and ever! Lauren Lane has a nice ring to it."
Now that Bushnell is happily engaged, let's dive in and learn all about her fiancé, shall we?