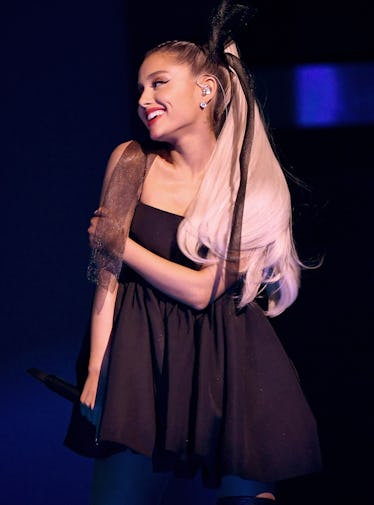 Ariana Grande's New 'Spirited Away' Tattoo Has A Really Inspiring Meaning
Kevin Winter/Getty Images Entertainment/Getty Images
Ariana Grande just got another new tattoo, you guys, and it's GIGANTIC. But it's also cute AF, and the meaning behind it is actually super deep. OK, so Ari's got about 24 tats all over her bod, including a small heart on her toe, the word "court" on her knee, and the numbers 8418 on her left foot, which was the badge number of her fiancé Pete Davidson's firefighter father, who tragically died during the 9/11 attacks in NYC. But the pop star's latest ink honors one of her fave movie characters. So who is Chihiro?
Chiharo, it turns out, is the 10-year-old girl from the anime film Spirited Away, who, according to IMDb, "wanders into a world ruled by gods, witches, and spirits, and where humans are changed into beasts." Sounds pretty awesome to me. Grande shared a whole bunch of pics of the character on her Instagram story on Aug. 29, along with an image of the brand new tattoo on her right forearm, and I have to say, it's a pretty amazing reproduction! The "God Is A Woman" singer also revealed the meaning behind why she chose to have the image inked on her body forever, which I'll get to in a minute.
But first, here is Chihiro:
And here is the finished tatt on Ari's forearm:
A pretty good likeness, no?
Now, here's the story behind it:
"Chihiro's growth into a capable individual is a core factor to the movement of Spirited Away's plot," she shared. "During her adventure in the Spirit World, she matures from an easily-scared girl with a child-like personality to match her age to a hard-working, responsible, and brave young girl who has learned to put her fears aside for those she cares for."
Kind of sounds like the personal journey Grande has been on herself, following the Manchester attack during her concert in Manchester last year. The pop star even tagged Mira Mariah in her post, the same tattoo artist who inked her with a bee behind her ear, which was used to symbolize unity and strength following the 2017 attack.
I have to say, I think it's pretty admirable that Grande has been so open about her journey to heal following the tragedy. During an interview with TIME magazine on May 17, Grande spoke out about the Manchester attack, and about how tough it was to move on.
"I wish there was more that I could fix," she said. "You think with time it'll become easier to talk about. Or you'll make peace with it. But every day I wait for that peace to come and it's still very painful."
Later that same month, she told W that her latest album, Sweetener, would give fans a glimpse into her healing process.
"There are parts of my life that they would love to know about and hard times that I have been dealing with for the past year and a half that they deserve to know about," she explained. "I don't want to hide any pain from them, because I can relate to their pain. Why not be in it together?"
Looks like Chihiro isn't the only hard-working, responsible, and brave young girl who has learned to put her fears aside to help others.
Stay strong, Ari!