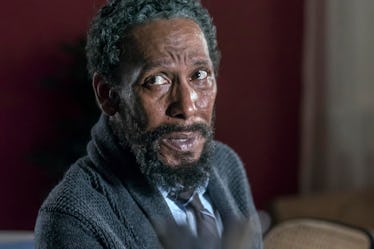 William Returns To This Week's 'This Is Us' With A New, Emotional Story
NBC
Seeing as he scored an Outstanding Guest Actor in a Drama Series Emmy award this summer, Ron Cephas Jones was bound for another flashback appearance in Season 3 of This Is Us. While previous flashback footage has focused on William's sickness or his decision to abandon Randall, the throwback in the episode "A Philadelphia Story" showcased a sober and healthy William in the early 2000s. The new chapter also introduced one of his old friends who Randall spoke with in the present day. Who is Chichi on This Is Us? She and her daughter were perhaps the closest thing William had to family before Randall entered his life as an adult.
On the cusp of celebrating five years of sobriety, William was reading outside his Philadelphia building when a pregnant Chichi arrived on the street. Frazzled and wary, Chichi denied William's offer to help her carry her luggage, but she was more vulnerable several months later when William brought a hot dinner to her door. Worn out by her daughter Sky's cries, Chichi agreed to sharing dinner with William, but she probably wasn't expecting to share her entire backstory with him over bowls of his failed attempt at cooking.
Having grown up in Nigeria alongside her childhood sweetheart, the now widowed Chichi chose to come to Philadelphia rather than her and her husband's dream home of Texas. Perhaps realizing how little she had in the world now, Chichi let William hold Sky, calling him a natural with her. Later, when she showed up at the rec center party honoring William's sobriety, it was clear that this was the start of a beautiful friendship between the two.
Chichi's loyalty to William later shone through when Randall took Deja to the exact same rec center to introduce her to Sky. As the girls got to know each other, Chichi filled Randall in on the issues within the center and their street, prompting Randall to pull a Jack Pearson and try to fix everything. Although he convinced the local councilman to send a maintenance crew to the area, the team didn't show, leading Randall to install a new light over the center's basketball court. That's one small step for man and one giant step for This Is Us's musical moments of very simple actions.
Before Randall left for Kevin's movie premiere, Chichi pointed out that while she considered William family, Randall was not one of them by trying to improve the neighborhood. Instead of seeing the beauty of the community present at the rec center, he focused on what had to be fixed there. Chichi should hang out with Beth in a future episode, because she captured the recurring theme of Randall sometimes needing a chill pill perfectly. If Deja and Sky continue to be friends, here's hoping that we see more of Chichi telling Randall exactly when he should just stop and relax for once. Beth could always use some backup when Randall isn't quite listening to her, too.
Season 3 of This Is Us continues on Tuesday, Oct. 9, at 9 p.m. ET on NBC.