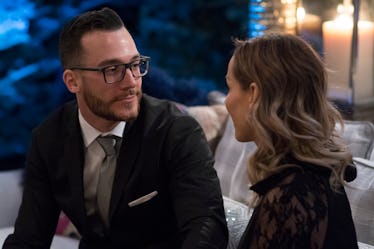 Here's Everything Bachelor Nation Needs To Remember About Benoit From 'Winter Games'
ABC/Paul Hebert
A visitor from up north — Montreal, that is — touched down in Mexico for Tuesday's dramatic installment of Bachelor in Paradise. BIP continues to welcome international participants this season, this time adding another familiar Canadian import courtesy of Bachelor Winter Games. Ladies and gentlemen, Benoit has officially arrived! But who is Benoit on Bachelor in Paradise? If you didn't tune in for the franchise's sporty spinoff last February, you might not recognize the French Canadian fan favorite with an accent.
Benoit made quite the impact on Winter Games and he found love in the process. An alum of Bachelor Canada's 2016 season, restaurant Maître D' Benoit Beauséjour-Savard caught the eye of America and Clare Crawley of Juan Pablo's Bachelor season. Despite obvious chemistry, the pair had a rollercoaster of a journey together that was cut short early on. Clare couldn't quite commit to the sweet and sensitive Benoit and went on to explore a relationship with Germany's Christian, which resulted in Benoit's tearful voluntary exit. But that wasn't the end of their story! The couple connected post-Winter Games filming. Clare realized her true feelings, they rekindled what they started in Vermont, and even ended up getting engaged on the "World Tells All" special following the finale.
Sadly, Benoit and Clare's romance didn't stand the test of reality TV time. The pair broke things off around a month later. The couple released a joint statement and a portion of their remarks read:
It's with a heavy heart that we have mutually decided to end our relationship. We think the world of each other, and we were hoping we could make this work. I'm sorry that this may not be what you want to hear, but it's our truth. Just know there are no negative feelings here, we are simply two people who believed in love, and were open enough to give it a chance.
Benoit's been doing his thing back in Canada since Winter Games (and his short-lived relationship with Clare) wrapped up. How did he get over his public breakup? Benoit revealed to Narcity following the split:
Break-ups are always super hard on me. I'm an intense and passionate person. So, I fall in love in an intense way and I feel the same intensity during the heartbreaks. The fact the engagement was public made the breakup even more difficult for the two of us. I'm currently using Kevin Wendt's 'getting over a heartbreak' recipe which is pretty much an equal combination of work, gym and bed.
It looks like Benoit's ready to get back in the dating game... and the ladies chilling in Paradise are certainly open to embracing him.
"This environment, it worked twice for me. So why not try it a third time?" he told Krystal. Fair enough, but does he know what works means in that situation? I'm pretty sure working is that you stay together... Anyhow, Benoit also has no regrets about the whole Clare thing and is just looking for someone as generous as he is. Is that too much to ask?
Benoit hit it off with Jenna almost right away, especially considering she was feeling uneasy after Jordan's stuffed animal meltdown. The pair had a romantic date that was even sealed with a kiss. Will Benoit's quest for true love work in his favor? Bachelor Nation will have to wait and see if they keep exploring their relationship... or if either of them moves on to someone else.