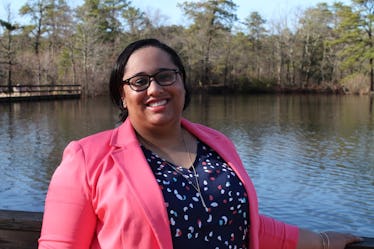 Meet The Woman Who Won A Politician's Seat After He Posted A Sexist Meme — EXCLUSIVE
Bennett for Freeholder
In January 2017, a Republican member of the Atlantic County, New Jersey, Board of Chosen Freeholders, John Carman, posted a sexist meme on his Facebook page that mocked the Women's March, asking if the protest would "be over in time for them to cook dinner." This angered many Atlantic County women, who went to a freeholder meeting to talk to Carman about the meme. After hearing criticism, Carman dismissed the women's concerns, saying "strong, confident women" wouldn't be offended by the meme. The protesting women walked out of the meeting, with resident Ashley Bennett, 32, among them. She went home, steaming with anger, and her family asked her a simple question: Why don't you run for his seat? So she entered the race, and on Tuesday, Nov. 7, Bennett won Carman's seat in the local elections.
Hers was one of many inspiring stories of progressive, Democratic victories from Tuesday's elections across the country.
"I'm speechless," Bennett tells me about her victory. "I'm incredibly moved and incredibly humbled that people came out to vote for me."
As a young person, sometimes you are dismissed or told to wait your turn. I think that it's always your turn when you decide it is.
Part of the sense of shock Bennett now has is because she had never expected to be in politics in the first place. Before the election, she had worked as a psychiatric emergency screener — but her anger over Carman's offensive insensitivity drove her to run for office in her home county. Throughout the election, she told people she would be happy whether she won or lost because she did something unusual: She saw something she didn't think was right, and "responded to that not just in being upset or posting about it on social media," but by standing up and doing something. "I was proud of myself for doing that," she says.
Now, she hopes that her story inspires other young people to "go out and do" what's right, even if it's scary.
"We all have gifts and talents and abilities, and, as a young person, sometimes you are dismissed or told to wait your turn. I think that it's always your turn when you decide it is," Bennett says. "As a young person, just step out there and do it, because what you have, what you bring to the table, is more than enough. If you're afraid, do it afraid."
Certainly, Bennett was afraid throughout the election, but she kept going with the support of her friends, family, and coworkers, who stepped up to make sure she had the time she needed to run. This support group included friends and teachers from high school — even some she hadn't spoken to in years who had heard about her campaign and wanted to help. Ultimately, it was a "movement of family and friends" that got her to the finish line.
Since the results came out — with Bennett beating Carman by about 500 votes — Bennett says that, as of Thursday afternoon, she hadn't heard from Carman following her victory. But that's OK, she says, and she understands — "we're both shocked [by] the outcome." She appreciates the service he did for the community for 20 years, as well as his military service, and she wishes him well in his future endeavors. And to clarify some assumptions she's faced, Bennett doesn't hate Carman — as she says, she doesn't "know him well enough to even feel that way." Her campaign wasn't about a vendetta on a personal level, she says. It was, however, about the relationship between constituents and their elected officials.
"What I was trying to get across is that it is never wrong to hold your elected officials to a higher standard," she says. Since constituents elect an official, Bennett says, the official is like an employee while the constituents are like the employers. With that in mind, "it is not wrong for me to tell you that I don't think you're doing the right thing."
After her victory on Tuesday night, Bennett's local election story went viral, which, she says, was "baffling, to say the least." She's trying to make the most of the impact of this moment. "I'm hoping that by [talking] and sharing my story that I'm encouraging some young person to stand up for something that they believe in and get out there and do what it is that they feel called to do," she says.
Now, Bennett is looking forward to getting to work on the board once she's sworn in. She's passionate about working on combatting the local opioid epidemic and high foreclosure rate, as well as working on economic development. However, she recognizes the importance of listening to her constituents — her neighbors — and she's looking forward to hearing from them about their most pressing concerns. But she probably won't be asking about their dinner plans.