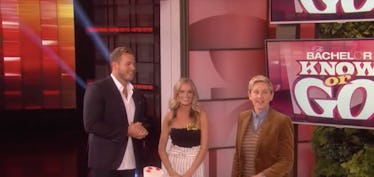 This 'Bachelor' Contestant Made A Lasting Impression On Colton When They Met On 'Ellen'
Warner Bros./YouTube
Filming for Colton Underwood's Bachelor season hasn't kicked off just yet, but the reality show leading man already got a chance to lay his eyes on three women set to compete for his heart. Before the fateful night when he'll awkwardly stand on a slick driveway for hours waiting for at least 25 women to step out of limos to make their best first impressions, he took to Ellen where contestants named Sydney, Annie, and Katie engaged in a trivia game. The winner got to formally meet him. Who is Annie on The Bachelor? The lucky lady got a Season 23 head start.
The Bachelor isn't set to premiere until January 2019 which means ABC probably won't release the full roster of contestants until closer to the end of the year. Bachelorette Becca was introduced to five of her suitors on "After the Final Rose" prior to shooting her season, so why shouldn't Colton (and Bachelor fans) be blessed with a sneak peek as well? Sydney, Annie, and Katie participated in a question-and-answer session called "Know-or-Go" and Annie came out on top. While not much was divulged about the Bachelor competitor-to-be, she did reveal she has seven dogs, her birthday is Feb. 7, and she's aware of how many points a touchdown is worth. The adorable blonde didn't get much up close and personal time with Colton upon her big win, but it looks like she made a good impression. Bachelor Nation will have to wait until her limo entrance to see how things play out. Who knows? Maybe Colton just found the love of his life even though his season hasn't even started yet.
Colton's Ellen interview airs Thursday, Sept. 20. A sneak peek of his interview proves he's pumped for his upcoming Bachelor gig and is ready to take on the challenge. Colton only found out he was getting the coveted reality show position shortly before the big Good Morning America announcement and despite the potentially difficult road ahead, he's said his TV experiences thus far have helped him "grow as a person." Plus, he's gotten closure with former flames Becca and Tia.
"Tia and I still continue to have a good friendship, we text here and there," Colton explained. "But I'm so ready, I'm so excited to not only meet my fiancée and my wife but the mother of my children and somebody I want to spend the rest of my life with. I feel like I was born to be a dad, so I'm literally super excited for this."
Colton, who's been open about his virginity since his time on The Bachelorette, is also looking forward to the fantasy suites. There's more to spending time together than just sex, he says.
"I mean, we could play board games, we could hang out," he remarked, which received a hearty laugh from the studio audience.
So, what is Colton looking for in a wife?
"I need somebody who's fun, spontaneous, outgoing. Appearance-wise, it's sort of all across the board, but I just need somebody who's a good person and somebody who could be a good mother," the former football player told Ellen.
Hopefully Colton will find the woman of his dreams when production for The Bachelor gets underway. Perhaps he already met her on Ellen...