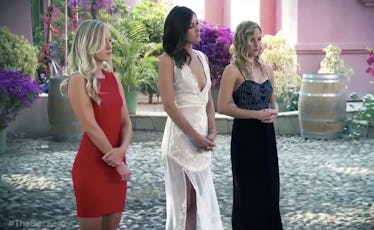 Arie Sent This Woman Home After The Fantasy Suite & Bachelor Nation Is Shook
ABC
We have officially survived two-on-one dates, hometowns, and Fantasy Suites on The Bachelor. Week 9 was tough to watch, and Arie had to make some really hard decisions. Who went home during Week 9 on The Bachelor? As we roll into the finale, Arie said goodbye to Kendall — leaving Becca and Lauren as the two finalists.
The big event surrounding Week 9 was the much anticipated Fantasy Suite dates. Arie and the women headed to Peru for some fun, but also serious conversations about the future. The episode started with a sand dune adventure between Arie and Kendall. The two spent the afternoon laughing and zipping around the desert in a dune buggy. The day also included sandboarding (think snowboarding down a sand dune) and a picnic lunch.
Kendall did decide to "forego her individual room" and stay with Arie in the Fantasy Suite. The next morning, the two seemed like they really connected, talked a lot, and it was a really positive experience. The overnight date seemed to melt all of Kendall's worries away and she admitted she was falling in love with Arie.
Next up was Lauren B.'s date. She and Arie brought their love to new heights (pun intended) with an airplane ride over Peru. Arie was oooh'ing and ahh'ing over the sights, but Lauren was characteristically quiet. After the airplane ride, she spilled to Arie that she's scared to open up and get her heart broken again. She even admitted that sometimes she feels like giving up.
However, all her fears were taken care of when Arie professed his love to her during dinner. It was an intense conversation, and Arie told her multiple times that he loves her. When she started getting emotional, he said, "Don't cry, I love you."
They stayed together in the Fantasy Suite, and woke up looking even more head-over-heels than before. This fits perfect with Arie's past quotes about Lauren. He wrote in a blog post for People after Week 6,
I couldn't logically explain any of my feelings. I didn't know why I felt so strongly, I just did. And I know excusing myself during dinner looks crazy. It felt crazy at the time, but when Lauren told me she was falling in love with me, I was overwhelmed. In that moment, I knew I felt the same way but needed to take a moment before I could properly express myself. I hadn't felt like this about someone since Emily [Maynard].
Last but not least, was Arie's date with Becca. The two went boating around Peru and cuddled on a yacht. For the third time this episode, Arie said, "I love you." This time, it was to Becca and she was so excited. The two stayed in the Fantasy Suite, and Becca's "cheeks hurt from smiling so much."
Then, the drama occurred. Becca's ex, Ross, showed up out of the blue and knocked on Arie's door. Ross told Arie that it is "his proposal to give." He and Arie had a long conversation about Becca, and basically Ross said he was going to go get his girl back.
Ross went and poured his heart out to Becca and gushed, "it always comes back to you." Becca rejected him, and all was well.
There was a rose ceremony, and Arie pulled Kendall aside to break the news. The whole thing was really mature, and things ended amicably.
Next week, Becca and Lauren will meet Arie's parents and (hopefully?) there will be a proposal.
Check out the entire Gen Why series and other videos on Facebook and the Bustle app across Apple TV, Roku, and Amazon Fire TV.