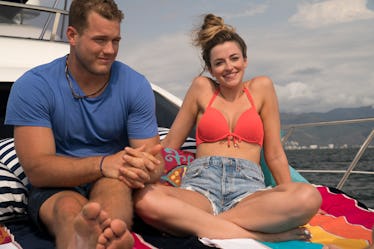 Here's Everyone In The Running To Get Engaged At The End Of 'Paradise'
ABC/Paul Hebert
So many hook ups, so little time! Bachelor In Paradise only officially kicked off on Tuesday, Aug. 7, but the connections were strong with this season straight from the start. With so many couples a-brewin' in Mexico, fans of the franchise are already wondering, who gets engaged on Bachelor in Paradise Season 5? The possibilities seem endless at this stage in the game.
Night one of BiP's fifth installment served up an abundance of drama, budding chemistry, and make-outs. The matches ranged from the somewhat surpising to the totally predictible (ahem, Colton and Tia), and placed a handful of couples in the running towards a possible proposal. Hey — engagements aren't exactly uncommon on the summertime spinoff. Jade Roper and Tanner Tolbert are still going strong after he popped the question in Season 2 and Carly Waddell and Evan Bass said I dos after he got down on one knee in Season 3. There were some broken engagements along the way — Season 4's Taylor Nolan and Derek Peth's were the show's most recent recent relationship casualty — but the success rate isn't so bad. Ashley Iaconetti and Jared Haibon hit it off three years ago in Paradise and even though their entire journey wasn't televised, they're currently planning a wedding.
So, which Bachelor in Paradise Season 5 couples could be on the road to a happy ending? Here are a handful of picks that could go the distance based on what viewers have seen so far.
1. Colton & Tia
Arguably the most talked-about duo in Bachelor in Paradise, Colton and Tia have history. The two hit it off even prior to Colton's casting on The Bachelorette when they connected via social media and shared a weekend in Los Angeles back in January. Tia's feelings obviously Colton didn't cool off before she touched down in Mexico. It seemed like most of BiP's premiere was devoted to her waiting for him and then wrestling with the possibility of being open to someone else. But Colton did end up in Paradise and they went on a date, ultimately rekindling what they started.
Their current relationship status is a big old question mark, but it's always possible that all this will-they-won't-they stuff will turn into the real deal. Of course, there's also the chance that Colton could be the next Bachelor, which duh — he'd have to be single for.
"We'll see how Paradise goes…he could be engaged by the end of Paradise," ABC exec Robert Mills recently told E! News. "If he wasn't though, he certainly has a lot of the attributes that you love in a Bachelor. There's a little bit of that Sean Lowe, not use in looks, but he's also a guy who is surprisingly funny and charismatic."
2. Krystal & Kevin
The couple that goes to the gym together, stays together? Both fans of working on their fitness, Bachelor "villain" Krystal from Arie's season and Canadian Kevin of Winter Games, expressed interest in one another that resulted in a steamy smooch. Krystal gave his "pillow lips" rave reviews after he noted that he wasn't just attracted to her physically — he was into her "lifestyle." That's promising, except...
3. Krystal & Jordan
Prior to the season, promos hinted at a potential romance between Krystal and Jordan Kimball, the memorable male model from Becca's recent Bachelorette season.
"Life with you's going to be really exciting," Krystal is seen telling someone in the trailer. That someone looks like it could be a certain "pensive gentleman" like Jordan.
Jordan also confirmed he found love in Paradise and that his experience ends on a "good note." Maybe he found it with Krystal? Or maybe not...
4. Jenna & Jordan (or David?)
According to the BiP trailer, Jordan might end up having a thing for Jenna Cooper, who appeared Arie's Bachelor season. It seems she could also be pursued by Jordan's rival David, so time will tell what happens with that potential love triange.
5. Kendall & Joe
Kendall and Grocery Joe had a quirky meet-cute of a convo when they discussed dead bodies and cemetary picnics on night one. This set things into motion as they continued to hang out, even admitting they "liked" one another, which was pretty adorable. Joe endorsed their kiss, saying: "It just felt right."
Joe has not divulged what his current dating situation is post-Paradise.
6. Tia & Chris
Here's a long-lasting courtship that seems more unlikely. Tia chose Chris Randone from Becca's Bachelorette season to take out when she got the date card and Colton was nowhere to be found. Once Colton re-entered the picture, the Mexican winds shifted and she set her sights on him once again, but you never know...
"I just continue to be pleasantly surprised by Chris," Tia admitted at one point. He's also seen saying he's "falling more in love with her" in a trailer for the rest of the season.
Chris might be right. Everything changes at the drop of a tequila shot with this show, so there are probably couples Bachelor Nation isn't even aware of yet.
Bachelor in Paradise airs on Monday and Tuesday on ABC.