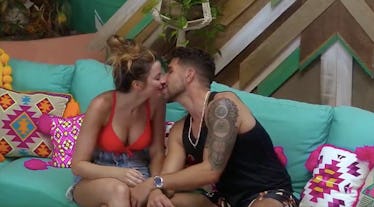 Bachelor Nation Has A Big Question About Tia & Chris After That Intense First Episode
ABC
Bachelor Nation expected to the premiere episode of Bachelor in Paradise Season 5 to focus on Tia and Colton, and yes — much of it revolved around the buzzed-about couple. But the show took a twisty turn when Colton's Mexico enterance was delayed, prompting first date card holder Tia to choose an alternate suitor to go out with. Surprisingly, she decided on Chris Randone of Becca's Bachelorette season and things went... not so bad! In fact, they hit it off. So, are Tia & Chris dating after Paradise? Despite the whole Colton thing, fans are curious to find out if the pair kept their romance alive.
"I came here to find something real and serious and lasting with Colton, but I don't want to stand in my own way," Tia confessed, initially reluctant to use her coveted date card.
Um, that card is sacred and very desirable in this reality TV environment, yet Tia couldn't help but shed tears over choosing someone other than Colton. Alas, she and Chris headed out for a romantic dinner. They discussed their dating histories (cough, Colton, cough), what they were looking for in a parter, and how ready to ditch the dating scene they were. All in all, it was a successful evening. They even made out a whole bunch. "Colton who?," Tia asked.
Uh, not so fast, girl! Just as the memory of Colton was supposedly fading from Tia's mind, he stepped onto the beach. Thus, her attention turned right back to her former flame in no time.
But just because Tia and Colton reignited their spark does not mean the feelings for Chris subsided completely, right?
"She gave me the confirmation that Colton's not in the picture," Chris remarked juuuuust before Tia accepted to go on a date with Colton. As Jordan commented, Colton is "Chris' personal Vietnam," which is a little dramatic, but whatever. And apparently Chris has no hard feelings now — the guy even live-tweeted Tuesday's BIP premiere and poked fun at the entire budding love triangle of a situation, jokingly shouting out both Tia and Colton in the process.
Tia and Chris had their fair share of smooching, but so did Tia and Colton. Their boating date resulted in a discussion about their past and Colton opened the door to exploring their future. And to be honest, Tia seemed pumped about the possibility. Unfortunately her fello BIP cast members weren't as enthusiastic. As Colton and Tia enjoyed their time alone time together, many other contestants expressed their discomfort with Colton's flip-flopping ways. One person who wasn't particularly pleased? Chris, of course.
"Tia deserves better. She deserves someone who knows what they want," Chris remarked.
The episode concluded on a tense note as Chris got frustrated with Colton's actions. Time will tell Tia ends up with Colton, Chris, someone else, or nobody from BIP at all.
"Tia has put the Colton situation behind her and I keep falling in love with her more and more every single day," Chris is seen saying in a promo for the rest of the season. Interesting...
Much of the BIP cast has remained mum about their relationship status post-filming, but anything can happen in Paradise. Even a connection between a couple Bachelor Nation didn't see coming.