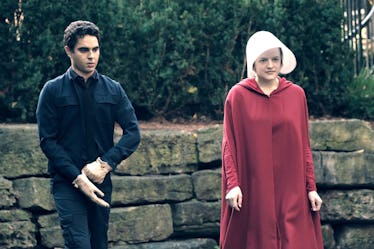 'The Handmaid's Tale' Season 2 Clues Will Make You Both Pumped & Nervous AF
Hulu
With just over one month until the Season 2 premiere of The Handmaid's Tale, anticipation is at an all-time high. Season 1 didn't exactly leave June/Offred (Elisabeth Moss) with the best odds of survival, and as we saw throughout the first season, the price of rebellion ain't cheap. On Sunday, the cast and crew reunited for an interview at PaleyFest, and their comments didn't exactly ease our anxiety about who dies in The Handmaid's Tale Season 2. Apparently, no one in dystopian Gilead is safe anymore, and now that the show is deviating from Margaret Atwood's original novel (which formed the backbone of Season 1), the stakes are even higher.
**Spoilers for Season 1 ahead!**
The biggest shock about Season 2 comes from creator Bruce Miller and executive producer Warren Littlefield. During the PaleyFest panel, the producers hinted that Season 2 will feature Game of Thrones-style bloodshed. When asked if fan-favorite characters will emerge from the battle between Gilead's leaders and its dissenters, Miller replied, "Oh no." "Anyone could die," said Littlefield as a follow up. Um, WHAT? The Handmaid's Tale was incredibly violent and even hard to watch at times, but watching the death of June or Emily (Alexis Bledel) would be too much to bear. Plus, Gilead is known for using death as a public statement — remember that mass beat-up? — so it's likely that if any major character were to die, it would be in the most gruesome, stomach-churning way possible.
The show's creators weren't the only ones in the panel who spilled the tea about Season 2. According to Mashable, each cast member was given the opportunity to speak about their character's fate in the upcoming season, and their hints about Season 2 have my mind spinning. As fans saw in the trailer, Emily and Janine (Madeline Brewer) will return this season as a slaves in "The Colonies," Gilead's version of concentration camps where "unwomen" are worked until death. But despite the awful conditions, Emily and Janine are able to remain at least slightly optimistic and "both find ways to live a life there," said Miller. According to Brewer, Janine has been put through the ringer in Gilead, so now that she's in The Colonies, "she's just grateful that's she's alive, after so many brushes with death."
Outside Gilead, Moira (Samira Wiley) and Luke (O-T Fagbenle) are readjusting to life in Canada. "They're falling in love. I'm kidding, she's a lesbian," joked Wiley. She continued, "I think in Season 2, we will find the things that are so wonderful about escaping to Canada, but it's also away from everything that she knows. I think we'll see a bit of both sides of that." Apparently, viewers will see flashbacks of Moira's life before Gilead, including her girlfriend Odette, who she mentions in Season 1 is an "unwoman" now. Maybe Janine and Emily will run into Odette in the colonies and figure out how to escape?
With all this rebellion going on, things aren't looking too good for Gilead's leadership. According to Yvonne Strahovski, who plays Serena Joy Waterford, "Serena's pissed" about June getting pregnant with Nick instead of with her husband Fred. However, the Waterfords will now share a "common front against Offred," and you know that these two aren't letting up any time soon. If there's anyone you don't want on your bad side, it's Serena Joy.
And what about June, our fearless protagonist? As fans saw in the trailer, she's now concerned about more than just her own survival: she must take care of her unborn child, too. "When we start the season, [Offred] has an unborn child. So in this extremely volatile chess game of Season 2, all her moves are about her unborn child and what life will be for that child," said Miller. In flashbacks, viewers will learn more about June's relationship with her mother, played by Cherry Jones in Season 2. June's mom plays a large role in the books but wasn't referenced much in Season 1, so her story line is a natural element for producers to introduce in the upcoming (and future) installment.
There are plenty of unknowns surrounding The Handmaid's Tale Season 2, but according to Strahovski, one thing is clear: fans should "expect the unexpected." Blessed be the fruit, Hulu.
The Handmaid's Tale Season 2 premieres April 25, 2018 on Hulu.