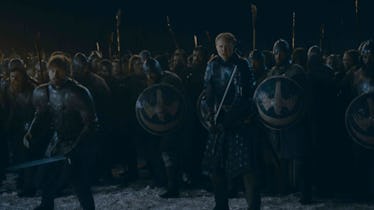 Let's Have A Moment Of Silence For These 7 'Game Of Thrones' Characters
HBO
This is it, the big one, the episode where Game of Thrones tops themselves. The Battle of Winterfell took 55 nights to shoot and will be the longest battle ever committed to either the big or small screen. But the real question is who this clash between the living and the dead will drag to the grave. Who dies in the Battle of Winterfell? Theories have run rampant all week. Warning: Spoilers for Game of Thrones Season 8 episode 3 follow.
Fans knew this week was going to take out several cast members, the fear was that some of the main characters would be among the body count. Brienne of Tarth, for instance, having had a moment of happiness last week, seemed a prime target. Fears also ran high that a Stark or two might go down by the end, as this series has loved killing Starks from the very first season. Also, Ghost seemed a likely candidate, or perhaps another dragon, both of which would be deaths most wouldn't see coming.
But in the end, most of the deaths came from the secondary, at least in the top half of the episode. Here now is a rundown of everyone who didn't survive the battle of Winterfell. And now their watch has ended...