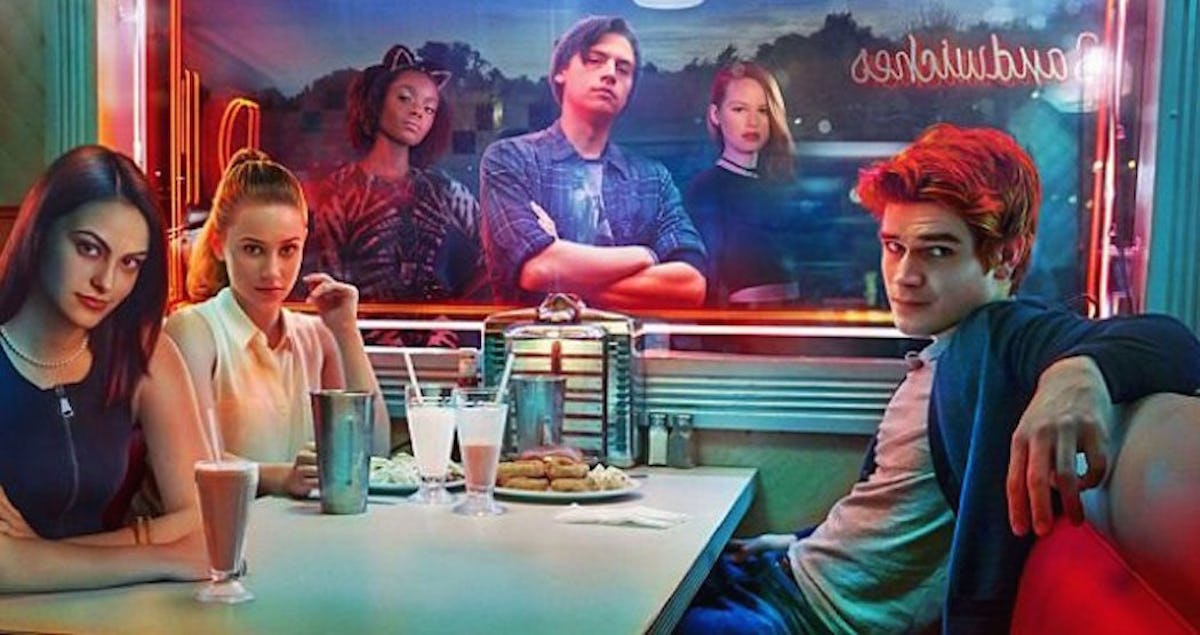 'Riverdale' Season 2 Is Going To Be Much Darker & Here's What We Can Expect
CW
The first season of Riverdale was only 13 episodes, but it seems like we already lived a lifetime of drama with Archie and the gang. Season 2 is so close we can smell the Pop's burgers, and from what we can tell, it's going to be even more intense than the first. What could be crazier than incest, murder, and demonic, yet endearing head cheerleaders? It all remains to be seen. But this town is crazy, guys. Who dies in Riverdale Season 2? Who's going to the dark side? Who's waging a war? Who's breaking up? So much is still a mystery... but we know it's going to be darker than ever.
The Season 1 finale made way for thousands of collective OMGs when Fred Andrews got shot in the final moments of the episode. With his fate in the balance, we can only speculate as to why this happened and if other lives are in danger. After all, we've heard rumblings of a civil war coming to town... even our dear sweet Archiekins is shown holding a gun in one of the teasers. Who is he after and is he really going to use it? Our nails are officially bitten off just thinking about it.
It's all a lot to take in. Even Cole Sprouse (who plays Jughead) has admitted that we should prepare for darker episodes to come. "I think the whole show is going to be getting darker and stranger," he told TVLine. "We're going to be leaning into a lot of those qualities that a lot of people ended up loving in the first couple of episodes — this heavy cinematography, this overbearing coloration, this really dark content that's kind of over-the-top and campy, but it's taken very seriously."
With the introduction of the Lodge's criminal patriarch Hiram, and new characters like serpent Toni Topaz and Veronica's NYC ex Nick St. Clair in the mix, there are new threats and new potential enemies we have to worry about. Fresh meat probably equals bad blood in this zip code.
Apparently, the show will dive deeper into the shadowy sides of the teenagers we've come to know and love. "There's a switch that goes off, and I think it's a different side of Archie we haven't seen yet," KJ Apa has said of his character's evolution. Veronica is going in that direction, too. But it's Betty's exploration of the dark side that's going to prove to be a real doozy of a storyline this season, according to Roberto Aguirre-Sacasa's interview with EW:
I would say by Episodes 4 and 5, Betty is absolutely in the heart of darkness. We're putting her through the fires like never before. I can't say too much because there's a couple of big twists, but Betty is absolutely at the heart of the darkest story we're telling this season.
And his spoiler-tastic tweets make us think that not all is peachy keen in Riverdale this coming season. Like, not even close.
Sugar Man!? And that's not the only thing that has us shaking in our ponytails. A promo poster for Season 2 only adds fuel to this blazing fire by casually spelling out the word DIE. No biggie.
Speaking of fires, Cheryl burned down Thornhill in the finale and we're still wondering how that all played out and what domino effect it might set off.
With so much darkness descending on Riverdale and hints that more mysteries are on the horizon, we know we're in for a rollercoaster of emotions and scares. It feels like nobody is 100 percent safe and everybody is along for a seriously wild ride.