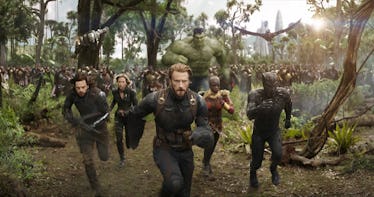 A Major Death May Be Coming In 'Avengers: Infinity War' & It's Going To Be Permanent AF
Marvel
To celebrate the 10th anniversary of the Marvel Cinematic Universe, Marvel has something big up its sleeve: The release of Avengers: Infinity War. Infinity War marks the 20th film in the franchise and promises to be an intense tale of fan favorite Marvel characters joining together to fight Thanos, a villain of mythic proportions. Defeating Thanos requires the combined strength of each Marvel superhero, but many are worried that not all the heroes will make it out alive. With fans desperate to know who dies in Avengers: Infinity War, I did some digging to figure out which character the MCU will be mourning next.
Marvel Studios president Kevin Feige added fuel to fans' anxiety in an interview with Entertainment Weekly, saying that after Avengers: Infinity War, "the movies after that will be forever changed." Um, what? I'm not sure what I'm going to do if Chris Evans stops putting on that super tight Captain America suit... If that's the case, I'm going to have a bone to pick with the studio.
Feige then doubled down on his comments, adding that Avengers: Infinity War will close a chapter for Marvel as a whole and provide a transition point for how the franchise approaches its characters. "You start to think differently about how the characters are interacting, what character's stories are coming to a close, and what character's stories are only just beginning," said Feige. He continued, "Those stories will continue. I think they'll continue in surprisingly different and unexpected ways after these two Avengers films."
While Feige definitely isn't making Marvel fans feel better with comments like these, there's a small chance that a death in Avengers: Infinity War wouldn't necessarily be final. When Entertainment Weekly's Anthony Breznican asked the Marvel Studios president meant "death" when referring to "a character's story ending," Feige was quick to correct him. "People always will jump to that. That's not necessarily what we're talking about," said Feige. He mentioned that the MCU could pull a Star Trek: The Next Generation, in which a character thought to be dead, Picard, returns to play poker in the series finale. But on the flip side, Feige is aware that Marvel has been criticized for generally allowing characters to come back after they die, and he warns these fans to "be careful what they wish for." There's a little room for uncertainty, but overall, it seems like whoever dies in Avengers: Infinity War is going to stay dead for good.
There are plenty of characters who may be killed off in the upcoming movie, but highest on the list are Captain America (R.I.P, Chris Evans' abs) and Ironman. Chris Evans' Marvel contract is up after Part 2 of Avengers: Infinity War is released in 2019, and Robert Downey Jr. is already out of his contract, leading many to believe that their characters' time in the MCU is up. However, Scarlett Johansson (Black Widow), Mark Ruffalo (Hulk), Chris Hemsworth (Thor), and Jeremy Renner (Hawkeye) all have contracts that are either currently up or will be up at the end of Avengers: Infinity War Part 2, so it's possibly that any of their characters — of all of them — could find themselves in a losing battle with Thanos.
Amid all this negative Avengers news, Marvel fans do have something to look forward to: Marvel just announced that the first Avengers: Infinity War will now premiere on April 27, 2018 rather than May 4, 2018, the originally scheduled premiere date. The move comes after a hilarious Twitter interaction between Robert Downey Jr. and the Marvel Studios handle in which Ironman asked if he could get a sneak peek at the film.
Ask and you shall receive, Mr. Stark. Maybe now is a good time to put in a request that your character stay alive, too.
Avengers: Infinity War premieres on April 27, 2018.